That would seem to be the case based on much of the news coverage of the Fed's decision to continue its quantitative easing program. Many pieces have highlighted relatively positive economic reports in recent months, most notably job creation numbers. Fortunately the Fed seems to have a much better knowledge of the data than the reporters who cover it. While job growth over the last few months has been somewhat higher than the average for the recovery, it does not stand out as being especially strong.
In the last three months jobs growth has averaged 192,000. By contrast, it averaged 271,000 for the same three months a year ago. Apparently the Fed has access to this data, which it used in its decision on continuing its quantitative easing policy.
Monthly Job Growth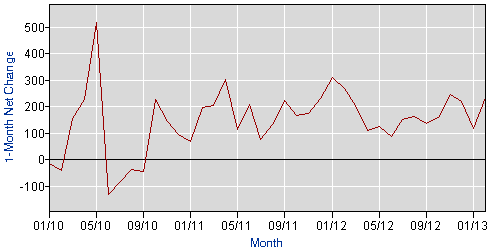 Source: Bureau of Labor Statistics.
Note: First sentence corrected in response to comment.