In a NYT op-ed, historian Michael Katz argues that New York Mayor Michael R. Bloomberg mounted "bold and unprecedented antipoverty measures." But Bloomberg's antipoverty agenda was neither particularly bold nor unprecedented. The roughly $50 million dollars in annual public funding for the Innovation Fund Katz cites amounts to less than .09% of New York City's annual revenues. When Bloomberg established his antipoverty initiative, the city's Independent Budget Office was projecting that the city would end the 2006 fiscal year with a $3.1 billion surplus, which followed a $3.5 billion surplus in 2005.
For those interested in a street-level assessment, I'd suggest this article written by City Limit's Neil deMause in 2008 after a public hearing on of Bloomberg's poverty agenda. In it, DeMause quotes a certain Bill de Blasio, then chair of the city's General Welfare Committee:
"It seems like in general when it comes to fighting poverty, there's a generic lowering of expectations that this administration does. I don't think that's how you move anything forward." Starting with limited programs and then scouting around for available funding, de Blasio maintained, is "a formula for guaranteed incrementalism, and that's not what we need right now …."
Bloomberg's Guaranteed Incrementalism would have been a much better title for Katz's op-ed than its ridiculous actual one, "Bloomberg, Champion of the Poor."
Katz also argues that the "failure to acknowledge what [Bloomberg] did in fact accomplish is not only unfair but also shortsighted." But Katz fails to acknowledge the ways in which Bloomberg proactively sought to block progress on poverty and economic security, including vetoing living wage and paid sick days legislation that would have disproportionately benefitted low-income, working class New Yorkers.
Similarly, there is no acknowledgement of how utterly unresponsive New York City's Temporary Assistance program has been to the massive increase in unemployment in the city over the five years. As the table below shows, even as the city's unemployment rate remains nearly twice as high as it was in 2008, the number of low-income families with children receiving Temporary Assistance to support a job search, education and training, or other activities, has barely budged.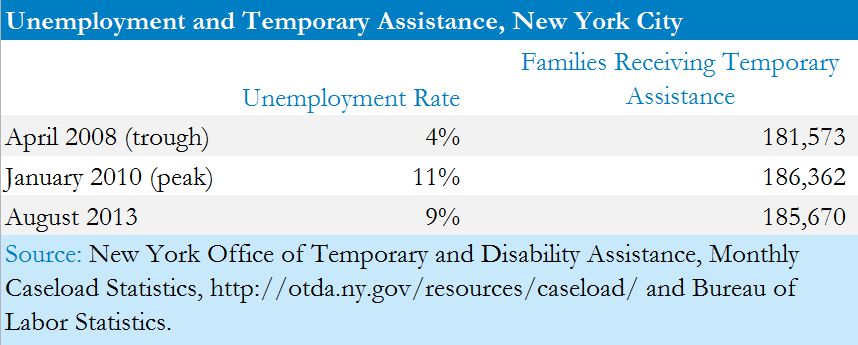 As I noted in a recent post, Mayor-elect deBlasio has put forward some sensible (albeit not particularly radical) ideas to fix the city's largely failed Temporary Assistance program.
Finally, to be fair to Katz, he at least closes strong, noting that Bloomberg's efforts remain unlikely to reduce poverty and inequality, and calling for direct job creation through public infrastructure projects and expanded social insurance. And, I imagine Katz himself was unhappy with both the title and the photo chosen to accompany his piece.