The following highlights CEPR's latest research, publications, events, and much more for June.
CEPR on Brexit
CEPR was a key voice weighing in on the decision by UK voters to leave the European Union, both before and after the June 23rd referendum. CEPR Co-Director Mark Weisbrot appeared on the Diane Rehm show prior to the vote, and he wrote a piece for The Hill titled "Should I Stay or Should I Go? Brexit, Extortion, and the Path to Reform."
After the vote was decided, Mark issued this press release following the announcement that a majority of UK voters had chosen to leave the UK. He also wrote a post on possible foreign policy outcomes of the Brexit vote for his World in Transition blog titled "Always Look on the Bright Side of Life."
CEPR Co-Director Dean Baker provided immediate feedback on Brexit with Lawrence O'Donnell's breaking news segment and also appeared on MSNBC's All in With Chris Hayes. He penned this article for the PBS NewsHour (which climbed to be one of their Top Five pieces) and he wrote numerous posts for his blog Beat the Press, both before and after the vote, including one titled"Paul Krugman, Brexit, and Unaccountable Government" (the remainder can be found here, here, here, here, here, hereandhere). Dean was cited by Policy.Mic. He was also mentioned in this piece in the New Yorker that asked "What do the Brexit Movement and Donald Trump Have in Common?" and joined a handful of other experts in this Politico piecetitled "How Brexit Will Change the World."
CEPR on Private Equity Returns
The latest paper by CEPR Senior Economist Eileen Appelbaum and Co-Author Rosemary Batt asks "Are Lower Private Equity Returns the New Normal?" The authors review new research showing that most private equity buyout funds fail to deliver outsized returns to investors, and it's unlikely they will in the future.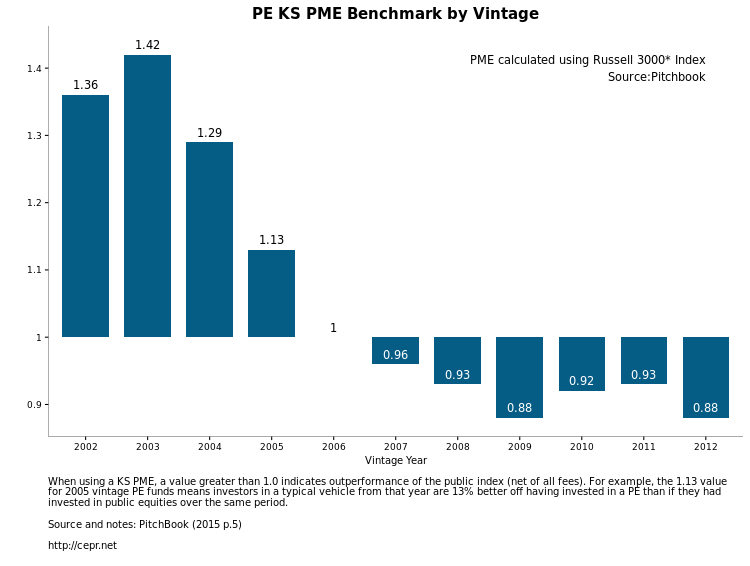 CEPR on the Formerly Incarcerated
CEPR's recentpaper,"The Price We Pay: Economic Costs of Barriers to Employment for Former Prisoners and People" by Director of Domestic Policy Alan Barber and Research Associate Cherrie Bucknor, estimates that the reduction in the overall employment rate caused by the barriers faced by former prisoners and people convicted of felonies costs the United States $78 to $87 billion in annual GDP. The paper was cited in this article on Identies.Mic and shared widely on social media.
CEPR on Haiti
CEPR Research Associate Jake Johnston was cited in this piece by NPR and ProPublica on a report by Iowa Sen. Chuck Grassleyshowing how the American Red Cross spent a quarter of the money people donated after the 2010 Haiti earthquake —almost $125 million — on its own internal expenses, far more than the charity previously had disclosed.The authors also published this article in the Miami Herald.
Meanwhile CEPR's Haiti: Relief and Reconstruction Watch blog posted about Haiti's ongoing electoral crisis, with this post looking at where the $33 million that the US spent on Haiti's scrapped elections went and this one on the coalition of political parties close to former president Michel Martelly that formalized an alliance and began advocating for provisional president Jocelerme Privert's removal days before the June 14 end of mandate.
CEPR on Social Security
Dean Baker issued a statement in response to the 2016 Social Security Trustees Report, which shows a small decrease in the projected 75-year shortfall of 0.02 percentage points. An article in Forbes cites Dean's calculations that the "culprit for almost 40% of the projected shortfall is attributable to the upward redistribution of income over the last four decade."
CEPR on Venezuela, Brazil and the Left in Latin America
Mark was part of the New York Times' Room for Debate panel of experts' discussion on Venezuela, writing: "The best thing that the United States government could do with regard to Venezuela, regardless of political outcomes there, would be to end its intervention there." Mark also wrote this post for his World in Transition blog on how the US and one of its principal allies, OAS (Organization of American States) Secretary General Luís Almagro, suffered an unambiguous defeat at the OAS when Almagro's attempt to use the hemispheric organization against Venezuela was rejected unanimously by the hemisphere.
CEPR Senior Associate for International Policy AlexMain discussed the US State Department's double standard on Venezuela, versus Brazil, on The Real News, while Mark was interviewed by Scott Harris of WPKN's Counterpoint on the current economic and political crisis in Venezuela, the impeachment of President Dilma Rousseff in Brazil, and the important issues addressed in his recent article in the Nation, "Has the Left Run its Course in Latin America?" Mark was also on RT's "The Big Picture" discussing the Brazil coup.
CEPR Blog
CEPR Research Assistant Nick Buffie wrote several posts for the CEPR Blog this past month including this one showing that the jobs gap is most significant for younger workers, this one explaining how the quits rate shows that the job market remains weak, and this one on why unemployment, not inflation, is the driver of economic misery. Nick also wrote this FedWatch profile of Patrick Harker, President of the Federal Reserve Bank of Philadelphia (this is the sixth in a series of profiles of the members of the Federal Reserve Board's Open Market Committee).
CEPR Domestic Program Intern Michael Ratliff asked (and answered) "Is There Such a Thing as the Great Millionaire Migration?", while Dean compared the gains from the Trans-Pacific Partnership with the gains from unemployment. Dean also wrote about the May jobs numbers and co-authored this post on prime time workers with CEPR Domestic Program Assistant Kevin Cashman.
America's Blog
This May 2016 post by former CEPR International Program Intern Ming Chun Tang continued to gain attention this past month. The post compared the hardcopy and paperback versions of Hillary Clinton' memoirs. As Ming noted in his post, "Many of the abridgements consist of narrative and description and are largely trivial, but there are a number of sections that were deleted from the original that also deserve attention," including the omission of a section where she had admitted to having helped the 2009 Honduran coup succeed, and pages on her support for the Trans-Pacific Partnership agreement. Ming and Dan Beeton mentioned the abridgements in this op-ed for The Hill.
The International Business Times published this article that cited Ming's post, and it was cited by several other outlets including Moyers & Company.
Beat the Press
In addition to the posts mentioned above, Dean took on BTP star Robert Samuelson, writing here that Samuelson resumed the attack on Social Security and noting here that Samuelson must not think that wives should get paid for their work. Dean offered a quick thought on globalization as we know it and he critiqued Charles Lane's Washington Post column on a universal basic income (and job killing robots). Dean also wrote "Presidents and the Economy:They Ain't Helpless."
World in Transition Blog
In addition to the posts already mentioned, Mark recounted a conversation between German Finance Minister Wolfgang Schäuble and Yanis Varoufakis, former Greek Finance Minister, in which Schäuble admits to wanting to take the "Troika to Paris."Mark also pretty much agreed with Paul Krugman on why Europe lagged behind the US in recovering from the recent recession, but Mark argues thatthe policies that Krugman rightly blames for Europe's additional two years of recession weremore than policy mistakes or dogma, but ratheran essential component of a very deliberate attempt to transform Europe into a different kind of society. And in this post, Mark argues that while it is welcome to see positive changes from the research department of the IMF, not much of these changes have influenced policy.
In Other CEPR News…
--Dean offered his solution on how to shrink airport security lines to CBS and he explained the secret to Bill Gates' incredible wealth. He also wrote this article for The Nation on why Elizabeth Warren should stay in the Senate and this one on how Hillary can fix what Bill broke. Dean also appeared on NPR's Morning Edition in a story about Donald Trump and a return to the Gold Standard.
--CEPR's oft-cited paper "No-Vacation Nation Revisited" was cited by the Huffington Post.
--Dean joined Thomas Palley of the AFL-CIO,Rob Scott of the Economic Policy Institute and Joseph Guzman of Michigan State University on a panel moderated by the AFL-CIO's Thea Lee titled "Trading Up: A Critical Perspective on Jobs, Governance and Security in US Trade Policy" on June 28th.Dean also spoke on June 15 that a free screening of The Same Heart, a documentary that follows the stark effects of inequality on the world's children.