In their new book, Jared Bernstein and CEPR's Dean Baker feature work sharing (a.k.a. short-time compensation) as a way to have more jobs in this economy. They highlight the program's striking success in Germany, where "its unemployment rate has actually fallen by more than 2.0 percentage points from its pre-crisis level, in spite of the fact that its economic growth has been no better than that of the United States."
Since last year, the federal government's been offering funding to the states for work sharing, but "the response has been limited, and short-work programs continue to be little known, even in the states that offer them, and [state] governments have done little to publicize their existence."
To try to turn this around, the U.S. Department of Labor (DOL) has started a push to promote work sharing in the states. Last month, DOL launched a new user-friendly website, chock full of helpful resources, including best practices, model legislation, an implementation guide, a business outreach toolkit, and success stories.
On Dec. 6th, DOL is sponsoring a webinar on the incentives currently being offered for states to operate and promote work sharing, the benefits of the policy, and information needed to start or improve state programs. It will also review the key features of the new website and include state experts talking about their experience with work sharing.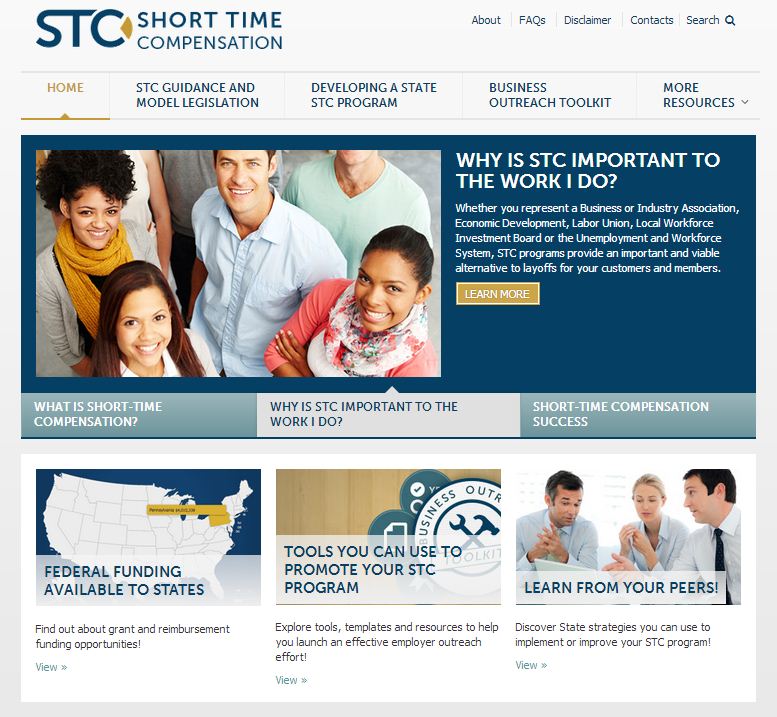 http://stc.workforce3one.org/
CEPR has been writing and providing resources about work sharing since the depths of the Great Recession. CEPR's Dean Baker has even teamed up with conservative economist Kevin Hassett to demonstrate that this policy has bi-partisan support. In fact, most of the 10 states that have passed work sharing laws since 2009 did so with bi-partisan majorities.
Let's hope more states take advantage of the federal funding -- it's available only for a limited time -- to put in place or improve work sharing programs. Not only will they help workers, employers and the economy right now, but they'll also be better-prepared for the next downturn.