August 27, 2013 (Housing Market Monitor)
By Dean Baker
Prices for bottom-tier homes in Atlanta rose at more than a 100 percent annual rate from April to June.
The Commerce Department reported a 13.4 percent plunge in new home sales in July, suggesting a sharp turning point in the housing market. The new home sales are erratic, so this report should be viewed with some caution, but the drop in sales is consistent with realtor accounts from around the country about the market having slowed sharply since the jump in mortgage rates at the end of June.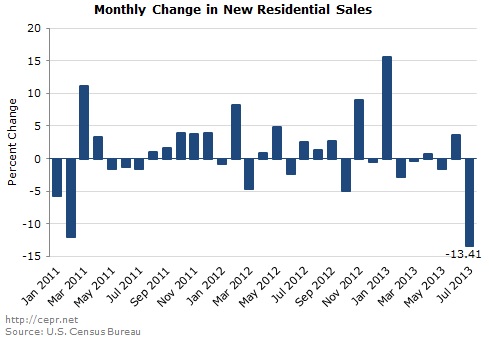 The July data on new homes sales are especially important since it provides information on contracts signed in July. Most other data on the housing market, such as existing home sales or the various prices indices, are providing information on closed sales. Since there is typically 6-8 weeks between when a contract is signed and the sale is closed, the sales data are not providing information about the current state of the housing market.
The other major release that does provide up-to-date information on the state of the market is the mortgage applications index. This has become somewhat weaker since the jump in rates, with applications running about 5 percent ahead of 2012 levels. This can still be consistent with a weaker market if there has been a sharp decline in investor purchased properties, as anecdotal evidence suggests. If investor purchases accounted for between 30-40 percent of purchases, then a drop of 10 percent in such purchases would offset a 5 percent year-over-year increase in homeowner purchases.
The Case-Shiller 20-City Index continues to give grounds for bubble concern; although there was some evidence of slowing in the June data. The overall index rose 0.9 percent in the month with prices rising in 15 of the 20 cities. Prices are up by 12.0 percent from their year-ago levels and have risen at a 15.4 percent annual rate in the last three months.
Western cities reported the largest price rises as San Diego and Las Vegas had a 2.2 percent jump in June, followed by a 1.9 rise in San Francisco and 1.6 percent in Los Angeles. The largest increase elsewhere was a 1.3 percent rise in Miami. The declines were all in the East or Midwest led by a drop of 1.4 percent in Detroit and 1.1 percent in Minneapolis.
As before, these prices increases are being disproportionately driven by the bottom third of the market. Prices of homes in the bottom tier of the market rose by 3.1 percent in June in Chicago, Las Vegas, and Miami. The three month annual rates of bottom-tier houses in these cities over the last three months have been 53.3 percent, 36.8 percent and 45.9 percent, respectively. Prices for homes in the bottom tier rose by 3.5 percent in Seattle and 3.6 percent in Minneapolis. The annual rate of increase for the last three months has been 45.3 percent in Seattle and 71.2 percent in Minneapolis.
San Francisco had a 5.4 percent June increase in the price of bottom-tier homes, bringing its annual rate over the last three months to 82.2 percent. Atlanta came in first with a 6.4 percent rise in June, bringing its annual rate over the last three months to 102.0 percent. The bottom-tier data is not seasonally adjusted; the adjusted data would show smaller increases.
In many of these cities, prices are still badly beaten up from the downturn, so they are still not obviously out of line with the fundamentals at current levels. However, the extraordinary rate of price increase seen in many of these markets could soon push prices well into bubble territory.
Since the data in the Case-Shiller index are based on completed sales and it is a three-month average, it is giving us a dated picture of the housing market. June levels reflect contracts signed between February and May. However that picture clearly showed a market where prices were rising at a ridiculous pace in many markets. From this standpoint, the plunge in sales in July should be seen as cause for relief. It may not have been the intention of the Fed to burst an incipient bubble with its taper talk, but it deserves credit nonetheless.