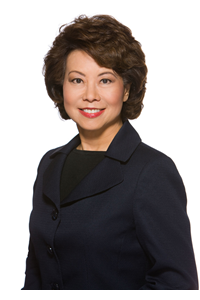 Directorships, 2008-2012: 3 (Note: This does not include Chao's service to Twenty-First Century Fox/News Corporation, which she joined in October 2012.)
Total director compensation, 2008-2012: $1,128,466
Total director compensation, 2012: $ 545,275
Average compensation per full year of service as director: $159,257
Elaine Chao served as George W. Bush's Secretary of Labor for the entirety of his two terms in office. Before leading the department of labor, Chao served as the CEO of United Way of America from 1992-1996, director of the Peace Corps in 1991 and 1992, and deputy secretary of the Department of Transportation from 1989 to 1991. She began her career in finance jobs at Bank of America and Citicorp, a predecessor of Citigroup.
Chao, whose husband is Senate Republican Leader Mitch McConnell, is currently a Distinguished Fellow at the conservative Heritage Foundation, which she joined shortly after leaving office in 2009. She received a bachelor's degree in economics from Mount Holyoke College and an MBA from Harvard Business School.
Chao joined the board of directors of Wells Fargo in July 2011. While the company has been profitable and performed above the S&P average during her time as a director, Bloomberg Markets named CEO John Stumpf the third most overpaid bank CEO in North America for 2012, trailing only Goldman Sachs' Lloyd Blankfein. For her service to Wells Fargo that year Chao pulled in more than a quarter million dollars.
Just before joining Wells Fargo, Chao was elected as a director of the Protective Life Corporation. From then through the end of 2012, the company performed slightly better than the S&P average. Yet the company's CEO, John D. Johns, was paid 39% more in 2012 than in the previous year. And in 2011 his pay increased by 32% over his pay in 2010, even though the company significantly underperformed the market average and its stock price fell in real terms.
Chao has also been a director of Dole Foods since 2009. One day before she officially joined the board, and months after she left the department of labor, a group of concerned investors, religious leaders, and human rights defenders sent a letter to Dole's chairman about the company's alleged role in intimidating and even murdering workers overseas. Since Chao joined Dole's board, the company has underperformed, which has been reflected in declining CEO pay. However, this decline followed CEO David DeLorenzo's 350% raise in 2009 in connection with the company's IPO, which raised much less than had been expected.