Update 12:12 AM: President Nicolas Maduro stated in an address that "we accept" the results, as he had pledged he would.
Update: 12:08 AM (December 7, EST): With participation of almost 75 percent, the CNE has announced that the MUD (opposition coalition has won 99 seats, while the pro-government coalition has won 46. Nineteen seats are to be announced.

Update 11:58 PM (EST): CNE announcement of results beginning. Watch live here. CNE President Tibisay Lucena says process was "clean and reliable."

Update 11:31 PM (EST): The CNE is expected to announce results within minutes.
Update 10:42 PM (EST): Venezuela Analysis reports that a CNE official was attacked in Chacao, Miranda state, while trying to enter a voting center, a few hours ago, with people chasing him shouting "kill him, kill him." Watch the video here.
Update 9:46 PM (EST): Stay posted. Official results are expected soon. Meanwhile, social media is abuzz over the opposition's unofficial claims of victory, helping to create a potentially dangerous situation.

Update 9:37 PM (EST): In an earlier press conference, Venezuela's defense minister said that there have been "72 electoral incidents," of which seven were electoral crimes, and seven individuals arrested.

Update 8:53 PM (EST): Venezuela Analysis notes "Opposition leaders such as Henrique Capriles are celebrating their win on Twitter," and Reuters is likewise reporting:
Tres líderes opositores venezolanos dicen que habrían ganado mayoría de escaños en elecciones de Asamblea Nacional; aún no hay confirmación

— @ReutersVzla (@ReutersVzla) December 7, 2015
But the celebration is premature, since, as Reuters notes as the CNE has not announced results yet. Such premature announcements are reminiscent of past elections, such as in 2013, when Capriles cried foul and accused the authorities of a plot to rob him of the election even before results were announced.
Also reminiscent of 2013's elections are attacks on social media accounts of people and outlets considered to be chavista.
Update 8:09 PM (EST): Opal Tometi tweeted:
Currently @ a polling site that is reporting +70% of those in municipality cast their vote. #Venezuela

— opal tometi (@opalayo) December 7, 2015
Update 8:06 PM (EST): A monitor in Catia sent us this ballot verification update at 7:41:
This is a print out of what will be transmitted to the CNE from sector Gato Negro in Catia. It has been signed by the director, technician, and two witnesses, among others.
Update 7:45 PM (EST): A monitor in Carabobo state sent a summary report of what he witnessed today:
The spirit in all 5 voting centers visited in Carabobo by international observers was one of tranquility, civility, a palpable sense of civic duty, and an overall relaxed environment despite an evenly divided electorate. There were occasional delays at some tables due to voter unfamiliarity with touchscreen and technical issues with voting equipment.

The prevalence of older voters, including those that required accompaniment from a friend or family member, seemed to slow the process as they often required individualized instructions from poll workers. Although Venezuela's government tried to familiarize voters by bringing voting machines to public spaces in the last few months, not all had experienced the most recent touchscreen setup.

Opposition voters were more likely to complain because of delays. As one man sourly stated after an equipment-based delay made his table's line stop moving: "We wait hours in line for food, we'll wait hours if need be to vote."

Out of the approximately 60 votes this observer witnessed pass through the process, one was a null or blank vote due to unknown reasons (whether poll worker error, voter error, or equipment failure). The woman claiming her vote was not captured became angry and loudly complained before calming down, finishing the final two steps verifying that she had voted, and declaring, "We're still going to win." There appeared to be no reason to believe her null vote was the result of anything nefarious, but her comment summarized the election's dominant narrative as expressed by many in the opposition, their media, the U.S. government and the majority of U.S. media: systemic fraud despite any evidence or even a theory of fraud. Nevertheless, things have remained peaceful and we hope that continues as the close results are announced.?

(Instructions not to hit "vote" until every vote has been verified, as the machine will ask for verification if a vote is missing.)
Update 7:31 PM (EST): A monitor in Caracas reported at 7:15:
We are on our way to watch a citizen audit at one voting center.

As you know, 54% of tables will have electronic results compared to the paper count of ballot boxes. This means that about half or more of tables at EVERY voting center will do this in front of witnesses from parties, and sometimes anyone else who wants to watch.
[Correction: While this monitor had previously been in Carabobo state, as we originally reported, he is now in Caracas.]
Update 7:22 PM (EST): Telesur denounces what it says were brief hacks of its social media accounts from U.S.-based IP addresses.

Update 7:05 PM (EST): Venezuela Analysis notes: "Henrique Capriles now claims the lines outside voting centers are being faked on television, and continues to tell supporters to close centers."
Update 6:50 PM (EST): Social media is heating up with opposition demands for polling centers to close now that's past 7:00, regardless of whether anyone is in line to vote. For example, this tweet purportedly shows opposition activists going to a polling station in Barinas (where the late President Hugo Chavez's brother Adan is governor) to demand it close:
6PM, DEFENSA DEL VOTO, nuestra #Barinas se moviliza en PAZ y Pacíficamente a cada Centro de V. a exigir su cierre. pic.twitter.com/BWw4158CyM

— Freddy Superlano (@freddysuperlano) December 6, 2015
However, Article 121 of the law governing electoral processes [PDF] states:
Las mesas electorales funcionarán de seis de la mañana (6:00 a.m.), hasta las seis de la tarde (6:00 p.m.), del día y se mantendrán abiertas mientras haya electoras y electores en espera por sufragar.
Translation: The polling stations will operate from six in the morning (6:00 am), until six in the evening (6:00 pm), and will remain open as long as voters are waiting to vote.
Update 6:37 PM (EST): Opal Tometi, monitoring the elections today, Tweeted earlier:
Great day observing 6 polling sites in Venezuela. calm & seamless process. it was beautiful 2 see everyday ppl engaged throughout the day.

— opal tometi (@opalayo) December 6, 2015
Update 6:23 PM (EST): International election accompaniers are speaking, presenting their take on the election process today. Watch Telesur live.
Update 6:20 PM (EST): Venezuela Analysis notes that opposition leader (and former presidential candidate) Henrique Capriles has called on supporters to go to voting centers and urge their closure as long as no one is in line. The tweet recalls past elections in which Capriles and other opposition figures have denounced delayed closings of voting centers. As this blog has noted, however, with real time updates, some centers were late opening today – in at least one case because MUD (opposition) witnesses failed to arrive on time (see update at 1:41 PM).
Update 5:55 PM (EST): Telesur reports that the CNE said that as of 6:00 pm Caracas time (almost a half hour ago), most polling stations remained open.
Update 5:42 PM (EST): Former Spanish president José Luis Rodríguez Zapatero told the media earlier today that press that the voting process was going well, and called on opposition and pro-government parties to engage in dialogue starting Monday.
Meanwhile, an hour ago, the Associated Press reported on a live update page:
Past Venezuelan elections have been marred by complaints of armed gangs intimidating opposition voters.

There have been few reports of that type of harassment as voting in congressional elections draws to a close. But videos are circulating of high-profile socialist party politicians being booed and heckled as they went to cast their votes.

In the home state of the late president Hugo Chavez, his brother Gov. Adan Chavez drew jeers from a large crowd chanting: "out of here!"

At least four other governors and the pro-government mayor of Caracas also had to pass through gauntlets of angry opposition members to cast their ballots.
Update 5:34 PM (EST): A monitor reports:
Venezuela's National Assembly legislator Miguel Pizarro of the opposition MUD party spoke to me immediately after voting at Centro Simón Rodriguez in Petare, Caracas, about the implementation of today's vote. "The CNE [National Electoral Commision] officials have done a good job," he said. "Since early this morning I've been going through the [voting] centers accompanying our party's witnesses, and the CNE staff's work has been good." Regarding the results to be announced by the CNE this evening, he responded, "Whatever comes out of the electronic voting system, we've always said that the system is not the problem."
Of course this is not exactly true: many in the MUD have repeatedly assailed the CNE and Venezuela's electoral system, most notably following the 2013 elections.
Update 5:23 PM (EST): As the last voters trickle in (although some may be in line well after 6 pm Caracas time, and still able to vote), an election monitor sends a reminder of how the voting process works – with photos related to stages 4 and 5):
Summary of 5 voting stations:

1) Initial check for table assignments, then voters line up at assigned tables/rooms.

2) Digital thumb print taken and voter registration re-verified.

3) Vote.

4) Voter signature and ink thumb print attesting to having voted are captured next to voter's name.



5) Finally, indelible ink (two liquids) is put on the right pinkie to prevent one person from voting multiple times.





(Pictures of voters going through the last two stations at one table of the Luis Agusto Machado Cisneros voting station and the two poll workers working those stations.)
Update 5:00 PM (EST): The CNE has reportedly suspended credentials for former presidents Pastrana, Lacalle and Quiroga due to their statements to the media. (Those engaging in electoral monitoring and accompaniment are subject to certain restrictions on making statements to the media before polls close.) See below (update 4:30 pm) regarding Quiroga's questionable impartiality in particular.

Update 4:50 PM (EST): As Telesur notes, "Many voting stations still have lengthy line-ups with one hour and a half left to vote, but officials have reiterated that polls will only close at 6:00 p.m. if there are no voters left waiting."
Update 4:41 PM (EST): A monitor in Margarita reports:
Short update: As of 4 pm, a voting center in the urban zone of Isla Margarita had 67% turnout. A semi-urban zone in Municipality Antonio Diaz is up to nearly 81% turnout as of 5 pm.
Update 4:30 PM (EST): A delegation of right-wing former presidents of Latin American countries is in Venezuela to witness the elections, including Andres Pastrana (Colombia), Jorge Quiroga (Bolivia), Mireya Moscoso (Panama), Luis Alberto Lacalle (Uruguay) and Laura Chinchilla and Miguel Ángel Rodríguez (both from Costa Rica).
Twitter activity for Pastrana and Quiroga shows that the ex-presidents have spent much time accompanying opposition figures such as Lilian Tintori (wife of imprisoned opposition leader, Leopoldo Lopez, who promoted a campaign last year aimed at pressuring Maduro out of office) and Súmate's Maria Corina Machado (a fellow leader, like Lopez, of the "La Salida" campaign, whom Quiroga referred to as a "heroine"):
Acompañando @liliantintori con @AndresPastrana_ este 6D pic.twitter.com/1fxyqhCxHW

— Tuto Quiroga (@tutoquiroga) December 6, 2015
It is unclear whether the former presidents have met with any supporters of the government, or generally how much effort they have made to talk to a variety of Venezuelans from different class and race backgrounds.
How objective and impartial are some of these former presidents? A U.S. State Department cable published by WikiLeaks describes a 2006 meeting between Quiroga and the U.S. ambassador to Bolivia at the time, David Greenlee, with Quiroga urging the U.S. to "stop" Chávez's "domino effect":
Former President and opposition leader Jorge "Tuto" Quiroga told the Ambassador on May 30 that the USG should help "stop" Venezuelan President Hugo Chavez in Peru, or risk the domino effect in Ecuador and elsewhere. Quiroga said if former Peruvian President Alan Garcia wins on June 4, Chavez will mobilize the opposition (via presidential candidate Ollanta Humula) at some point to riot and force Garcia to respond. When Garcia uses force to restore order, and the inevitable casualties result, Quiroga says that Garcia will "go down like (former Bolivian President) Gonzalo "Goni" Sanchez de Lozada." After Peru, Quiroga predicts a showdown between the United States and Venezuela in Ecuador. Quiroga says that because Ecuador has many people who oppose free trade and hosts a significant indigenous population, it is "ripe" for Chavez's influence.

… He said we should make no mistake — Chavez, who Quiroga called "delusional," thinks he is the new Simon Bolivar and wants to take over Latin America. Quiroga cited the many Chavez posters plastered across the Chapare for the MAS Constituent Assembly kickoff May 26, and that the Venezuelans were teaching their national anthem to the Bolivian crowd. Quiroga said that in addition to his grip on Bolivia, Chavez holds Argentina, Brazil and Chile "hostage" by controlling the radical left in each of those countries, and effectively uses such control to minimize the actions those governments are willing to take against him publicly.
Such rhetoric is reminiscent of the most paranoid of the Washington establishment during the Cold War. Any gains by the left anywhere in Latin America must, in Quiroga's eyes, be due to Chávez's malign influence – and Chávez's power and reach apparently knew few bounds.
It is difficult to perceive Quiroga as an impartial observer given this background and have faith that he will challenge opposition claims of widespread fraud, even if there would – as in previous elections – be no evidence for them.
Update 3:40 PM (EST): An election monitor visited misiones in Petare, Miranda state today. The misiones are undoubtedly the most iconic of initiatives of the Bolivarian revolution in Venezuela, responsible for significant gains in poverty reduction, lowered child malnutrition, increases in child and adult education, and much more.
How have the misiones fared since Chávez died in 2013? The monitor writes:
The misiones are […] one of the triumphs of Chavismo here, and are still lingering for the most part. Even the opposition recognizes them, their utility, and mobilizes around and with them.

There is naturally propaganda for the misiones in a lot of voting centers (primary schools, community centers).

Five more misiones are active in and around Petare (and aside from exceptionally tranquil voting processes): Misión de Alimentación [food assistance], Misión de Saber y Trabajar [to help people in need of work], Misión Milagro [eye surgeries], Misión Sonrisa [dental care], and Gran Misión a Toda Vida Venezuela [security].

This last one could use the most improvement and focus, since it deals with delinquency, violence, community policing, etc., here in Petare especially.
Update 3:15 PM (EST): CNE President Tibisay Lucena has denounced false claims of invalid votes at some voting centers, warning of the dangers of such rumors being spread via social media. Rather, "Everything has unfolded in a very quiet and civic way," she told media.

Update 1:41 PM (EST): At 1:13 PM, a monitor in Barquisimeto reported long lines, and long waits:
At a large voting center, Simon Bolivar, 2759 have voted out of 7340. 500 people were waiting in line to vote, with approximately 200 people waiting outside – a two-hour wait outside to vote. The whole process took voters 3 hours to complete.

This center opened late (8:30/9:00) because 3 MUD testigos [witnesses] failed to show up. We heard two rationales: They feared losing, and/or if the voting started without them, they could declare fraud.

The opposition won the last election here.
Update 1:36 PM (EST): A monitor in Valencia, Carabobo state, sent us this video:
He writes:
Witnesses and/or poll workers at every table must include at least one representative of each party, although smaller parties do not have enough supporters to send to all tables, and the opposition does not send reps to all tables. Nevertheless, I have made a point to speak with opposition witnesses at every table visited, and have heard zero complaints from them so far.

Here is video of initial registration/table assignment station at Itaca voting center in Valencia, which consists of 15 tables and 8980 total voters, which greatly exemplifies the relaxed atmosphere at the polls.
Update 12:28 PM (EST): Reuters reports why there may be a significant difference between national polling and the results of today's elections, as well as what opposition victories might portend for the Maduro government:
Political analysts point out that the Socialist Party benefits from a geographic distribution of seats that favors historically pro-government rural areas over cities.

That could mean the overall vote will not be precisely reflected in the number of seats won by each side.

The practical impact of a potential opposition victory would depend on how large a majority it wins.

Taking two thirds of the seats would allow Maduro's adversaries to sack cabinet ministers as well as name directors of the National Electoral Council, which critics accuse of routinely favoring the ruling party.

With a simple majority, lawmakers could pass an amnesty law to seek the release of jailed politicians such as Lopez, who was arrested for leading 2014 anti-government protests.

They could also open investigations of state agencies, interrogate cabinet ministers and pressure for the publication of economic indicators such as inflation that have been kept under wraps as the economy has unraveled.

Update 12:23 PM (EST): A monitor sends images of past and present voting machines to note the improvements made over time:
Voting machine used in 1998 elections that brought Chávez to the presidency, compared to latest model of Smartmatic machines being utilized in the 2015 elections. The first machine scanned voter sheets filled out by hand. The current generation of machines are connected to a touchscreen voter sheet that lists the choices by party. Many candidates appear under multiple parties.
Below is a picture of the sample voter sheet for District 5 in Carabobo state, which mimics the touchscreen voter sheet.

[Voters' fingers are stained with ink once they have voted.]
Update 12:08 PM (EST): A report sent at 11:49 from Barlovento, at the Centro de Educación Inicial Gabriel Emilio Muñoz, Higuerote, reads:
1509 registered voters, 3 mesas. When we arrive, there is a commotion in front of the center with a number of people shouting at each other. A representative of the MUD from the sector has arrived to address a complaint of a voter who says he wasn't able to vote.

Inside the voting center, we indeed discover a mesa where they are all aware of an incident where a man wasn't able to vote. He placed his thumb in the fingerprint machine and it indicated that he'd already voted, and blocked him from using the voting machine. When they checked the paper registry of voters for the mesa, they saw that he hadn't signed and put his fingerprint next to his name, indicating that he voted.

They write out a statement recognizing that he wasn't able to exercise his right to vote and phoned the CNE headquarters to let them know about the problem.

After enquiring at the other mesas, and speaking to the various party witnesses, it appears that the rumor regarding a mesa member having told a voter how to vote while he or she was voting wasn't true. By the time we leave the center, the crowd of people that gathered outside is gone.
Update 12:03 PM (EST): Update from Unidad Educativa Jose Jesus Garcia in the city of Porlamar, Mariño municipality, Isla Margarita/Nueva Esparta:
If the trend from the voting center we just were at is general, Chavismo may be in trouble today in terms of the vote. The voting center is located in an eminently popular sector zone, where houses are generally self constructed. There was tremendous turnout in the voting booth with extremely long lines at multiple voting booths, and a high vote in other booths where the line was shorter because voting was going faster.

The first notable observation is that this sector is known as a highly Chavista sector. I spoke to around a dozen people, if not more (perhaps up to 18), and only 2 identified themselves as Chavistas. The majority, in fact the vast majority of people I spoke to waiting in line to vote, said they were voting for 'change,' meaning for the opposition. They said that they are tired of the long lines for basic goods and foods. Several mothers complained of getting up at 4 am to wait in line and not even being able to always buy food even doing that.

One of the two Chavistas I spoke with commented that "I'm Chavista" and said the economic situation in the country is due to 'the economic war that is being waged by businessmen … every day I read about a businessman being put in jail due to withholding goods from the people'. This man is a construction worker/electrician and said that his neighborhood is still very Chavista. He also said he'd just been waiting about 25 minutes, though he was at the end of the line. Other people further along said they'd been waiting 3 hours and in a nearby booth for 5 hours. All of these people also said they were there to vote for 'change.' Over and over people mentioned the long lines. Another mother mentioned not being able to get formula for her baby, and how her 60-year-old father had to leave the country (I believe to go to Colombia) to get medicine.

Out of 7 voting booths in the center, 2 had extremely long lines, where people had been waiting a very long time, for 3 hours, and according to a few more, 5 hours to vote. In these tables there had been some issues with the voting machines, though there are different versions of what happened. In one table/booth there were between 2 and 4 cases (I was told 4, but another member of my delegation said she was told 2 just 15 minutes earlier) in which people said they hadn't touched the machine and it emitted a null vote, and apparently this wasn't because of waiting too long. The CNE technician with us came and explained to the people, and us, that "this is technically impossible" and gave some hypothetical explanations of what had happened. He was convinced that they had touched a button to issue a null vote without realizing it. At any rate, this caused some delay and the vote in this booth up until about 11:30 am was just a bit over half the nearby booths, which hadn't had any problems. It seemed that several booths were functioning very smoothly in the center, with one having people waiting from 10 to 25 minutes before voting, and apparently only have a few small issues.

Most of the people who said that they are voting for the opposition said they've always voted opposition, but at least 2 said that they have changed after being Chavista and now they are switching to vote opposition.

Another observation was that the CNE and military folks escorting us we're noticeably nervous as we talked to people. They said this was because the zone is known as being 'very conflictive' and even filled with 'delinquents.' They asked us to stay together and wanted to leave relatively quickly. However, they were extremely accommodating when we expressed interest in staying longer.

An interesting thing happened when I asked several people if they felt confident in the system. They explained that they'd seen someone ahead of them (in a relatively fast booth) have some sort of problem. The main CNE technician came over and explained to them what happened. After this they all looked relieved and said they felt much more confident that they wouldn't have problems. However, several people saying they'd vote for the opposition expressed a lack of full faith in what the results would be.

Based on this center, it seems this election may have a very, very high turnout, though that hypothesis should be compared with other observations. In addition to the long lines people also said that they hadn't seen such a high turnout in awhile here.
Update 11:43 AM (EST): Another update from Guacara in Carabobo state:
Schools made up all of the voting centers the international observers visited in Carabobo this morning. 6,090 voters were registered at the Diego Ibarra voting center in Guacara. They were split into 11 voting tables. When we arrived, voting was going quickly at all but one table. That table's voting machine was running a little slow. In general, delays often occur due to some voters', especially older voters', lack of familiarity with touchscreen technology.
Update 11:29 AM (EST): A monitor in Barquisimeto reports:
At Escuela Dima Acosta de Alvarez, the third voting place we have visited in Barquisimiento: By 11:30, 1302 voted out of 3298. The city's mayor said he had lots of faith and optimism in this election. He is opposition. He said there had been no major incident in any of the centers, and no major delays – just a few glitches.
Update 11:20 AM (EST): While many international media reports and commentaries have stoked fears that the Maduro government will refuse to accept the results if its coalition loses today, some prominent opposition figures are stating that results showing an opposition loss today could only result from fraud. Venezuela Analysis (who are also tracking the elections with regular updates today) noted:

Hard line leader Maria Corina Machado tweeted this morning, "Or we sweep a win, or there is a fraud [underway] that we won't accept."
Such opposition claims have been bolstered by media reports and a campaign by the U.S. government, the OAS, and other international actors to apparently discredit Venezuela's electoral system, despite its many safeguards (see below), the presence of international witnesses to today's elections (from UNASUR, among other organizations), and repeated monitoring and praise for the integrity of Venezuela's electoral system in past elections, by the EU, the OAS, the Carter Center and others.

Fears of an opposition refusal to accept today's results, or to refuse to accept a victory short of a supermajority, have precedent in 2013's elections, when opposition leaders refused to recognize the official results and some violently protested. Some opposition figures – and international supporters – also claimed there was fraud in Venezuela's 2004 recall referendum, despite a complete lack of evidence.
Update 11:03 AM (EST): A monitor reports from Unidad Ejecutiva Nuestra Señora del Carmen, Higuerote in Luis Brión municipality, Miranda state:
925 registered voters, two mesas. Hour-long line. 306 people have voted so far, and probably 200 currently in line at 11:15 am. Elderly people and pregnant women are invited to skip the line and go straight to their mesa. The president of one of the mesas failed to show up and a substitute had to be called. As a result the center only opened at 8 am.

Spoke to witnesses from MUD, GPPSB and NUVIPA and they reported no problems apart from the failure of the president to show up.
Update 10:59 AM (EST): A monitor reports from the Luis Agusto Machado Cisneros voting center in Guacara, Carabobo:
Step 1 – Voter ID check and voting table assignment – 12 tables, total of 6498 registered voters at center.
Update 10:47 AM (EST): A monitor reports from Universidad Pedagógica Argelis Laya in Higuerote:
Two mesas and 1100 registered voters. At 10:50 am, 340 people had voted. There was a 15 minute line outside of the center, and 10 minute lines for each mesa. One of the mesas was only able to open at 7:10 am as their voting machine short-circuited and had to be replaced.

A MUD witness tells us that the process is "very good." When asked if the process is secure, a few voters say yes, but when asked if they trust the results, they say that they only trust the results once they see them published.

The results for each mesa in the entire country will be published online within hours after voting centers close.
Update 10:31 AM (EST): A monitor reported from Iribarren municipality in Lara state at 10:12 am:

At Escuela Dra. Clement Bustamante, all is peaceful . At 10:15, the total numbered registered is 777. Of those, 269 have voted. [In the] last election, [this center] voted opposition.

We are impressed by the number of voting centers.
Update 10:22 AM (EST): A monitor in Barlovento, at the Unidad Educativa Nacional Gonzalez in Higuerote, reported at 10:01 EST:
3,882 voters, 7 mesas.

1104 people have voted so far. Long lines that started before the voting center opened. No major problems, but the voting machine at one of the mesas wasn't working and had to be replaced by a CNE technician. That mesa only began working at 8:30 am.

A few of the other mesas only began working at 7:30 am due to mesa personnel not showing up. In every case, their substitutes were called and were able to replace them.

Some voters were spotted wearing clothing with PSUV party insignia. Normally they should have been sent home to change before they could vote, but this didn't appear to happen.
Update 10:17 AM (EST): Update from Unidad Educativa Juan Cancio, semi urban sector of Asuncion, parish Asuncion, Municipality Arismendi:
This is a sector that is mixed classes: middle, upper-middle and popular. Tends towards opposition. I spoke with 6 people waiting in long lines, and 4 expressed open support for the opposition or positions clearly tending towards the opposition. The other 2 didn't express preferences. A commercial pilot said, 'I want change. I want this to be a normal country.' He expressed hope that the process would be clean, but wouldn't commit to saying he had full faith in the results. But he didn't express grave doubts. I asked others why they were here to vote or help with the vote, instead of going to the beach. An opposition witness woman said, 'This is too important [to miss and go to the beach] … the future of Venezuela is in play.' She later expressed full faith in what will happen in her voting booth, but said she felt just 'average' about faith in the overall results. She said as well that the government and opposition locally have used state resources to campaign and/or bring voters to vote, e.g., state-owned cars were used. A PSUV witness said she didn't think this happened, and didn't have knowledge of it happening for either side.

There were fairly long lines to vote, though the people I asked in the middle of lines had been waiting half an hour. They said they'd wait as long as they had to, to vote. A young man said he was voting 'because our constitution gives us the right to vote when we're 18.'

Overall the voting center was without any significant problems. As in other centers, in several voting booths (mesas) witnesses and booth members (who are selected by lottery by the CNE, as party witnesses for both parties) said things were smooth. One […] said that several senior citizens couldn't figure out how to vote for the candidates they wanted to, and by mistake had null votes. Seems to be a regular problem, but just a few cases per table.
Update 9:58 AM (EST): A monitor in Carabobo state reports:
Team of 7 international observers, including one from UNASUR, have visited 2 voting centers so far in Guacara, Carabobo state. Voters in good spirit in a heavily contested state. So far, the electorate skews older, but makes sense as younger voters may come later.
Update 9:54 AM (EST): An update sent at 8:46 am from Sucre includes another account of brisk voting, as reported elsewhere:
UNASUR accompaniment delegates from Ecuador reviewed the voting center in the Dolorita parish of Sucre, circuit 4, which has been the recipient of 22 new voting centers. They found that from registration to ink stain, the process took on average between 45 seconds to 1 minute. Four party representatives, two from MUD and PSUV respectively, were in attendance to observe the proceedings.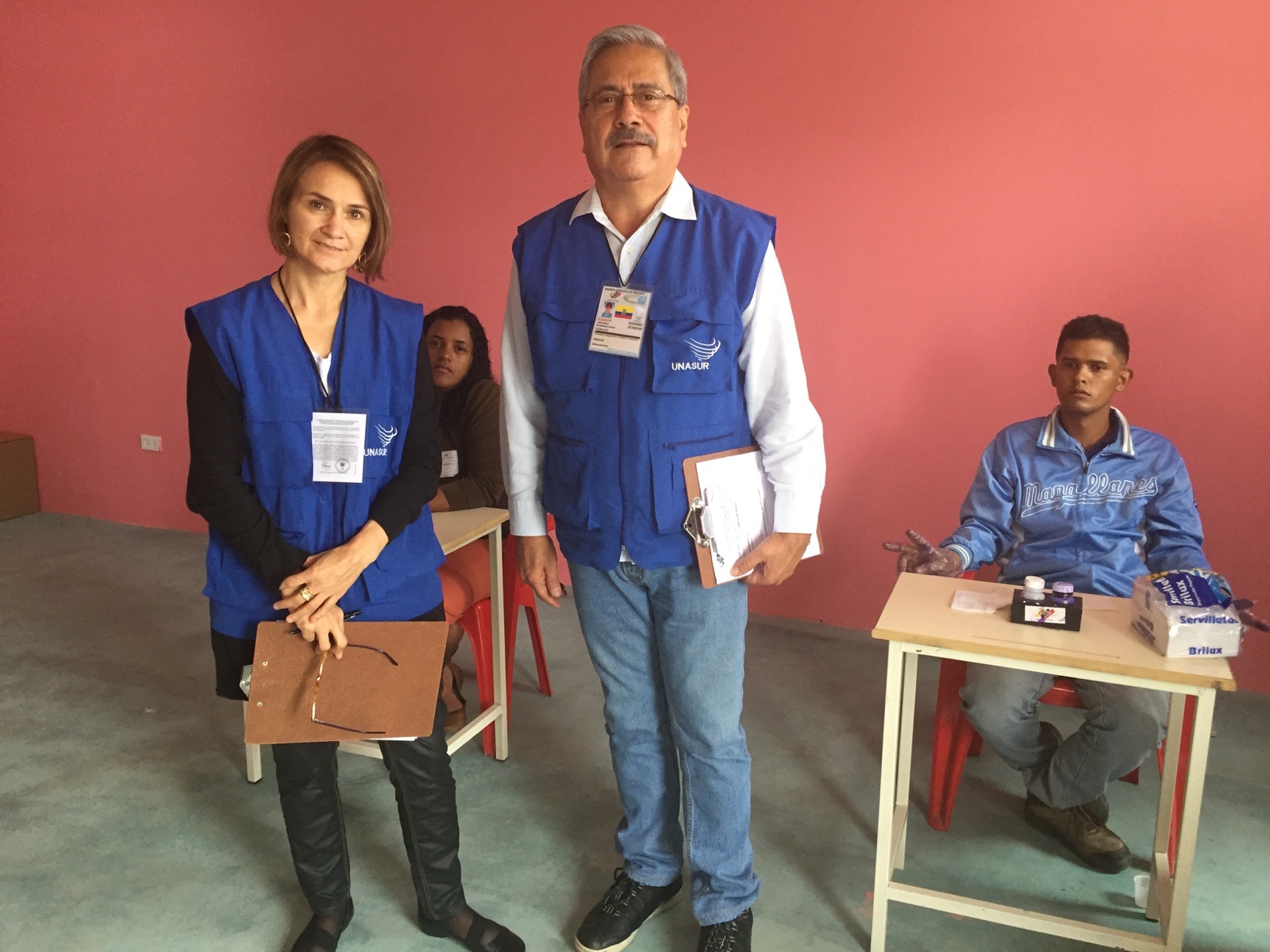 Update 9:46 AM (EST): A monitor in Barquisimiento reports:

In Barquisimiento, we visited escuela Pablo Jose Alvarez . Out of 1300 registered by 9:30 am, 359 had already voted.

An older couple just leaving whispered that "the opposition is going to win," with some relish. And we are in a chavista neighborhood.
Update 9:31 AM (Report received at 8:52 AM) EST: Barlovento, Miranda: Escuela Bolivariana Centro el Marquez, Acevedo municipality: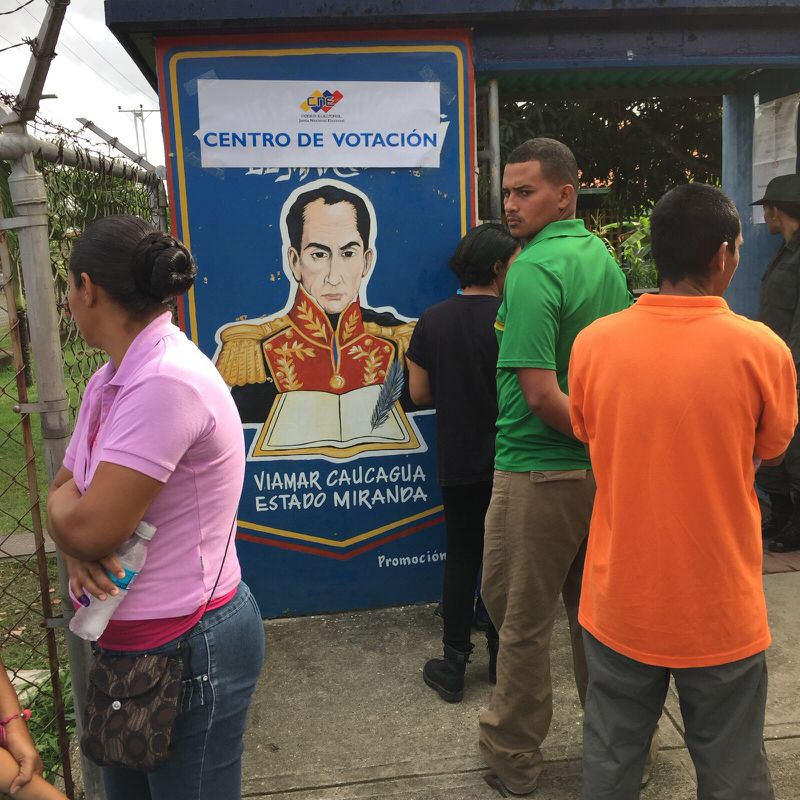 2 mesas, 348 voters per mesa. A longer line in front but both voters and party witnesses say that everyting is unfolding normally. At one of the mesas two of the personnel didn't show up, but their substitutes are called and show up a bit later, allowing the mesa to open up at 6:25am.

Two elderly women and one illiterate man are confused by the electronic voting machine. In one case, a family member who has identified herself and signed in at the entrance accompanies one of the women. In the two other cases, the president of the mesa gets up and stands near the voter and explains with words and gestures how to vote.

There are MUD and GPPSB witnesses at each mesa and they all say that all is well, as does one representative of an independent party NUVIPA.
Update 9:15 AM (EST): A monitor in Barlovento, Miranda, provides an update from the voting center at the German Rosario high school in the Acevedo municipality (see below), which also presents a good rundown of how voti
ng unfolds within the polling stations):

By 8:45 lines grow longer. But process still quick. Voters are received first by a row of young staffers with computers. They take the voters' names and ID numbers and orient them toward one of the mesas. The voter then waits his/her turn and is then received by the presidente de mesa who enters their ID number into the electronic fingerprint machine. Once one or two of their thumb prints identify them as a voter at that mesa, they advance to the voting booth. When they're ready to vote, the president of the mesa presses a blue button on the fingerprint machine that instructs the electronic voting machine to present the ballot to the voter. In this circuit, the voter votes twice (one party/coalition list and one nominal diputado), takes the receipt from the voting machine, folds it, places it in a sealed cardboard box, then goes to a table where they sign and place a thumb print next to their name on a list of voters for the mesa, and then puts their little finger in indelible ink. And that's it! The whole process generally takes less than two minutes.
UPDATE 8:31 AM (EST): Election monitors in Nueva Esparta provide more context on the area where they are observing:
We're here observing in Isla Margarita (Nueva Esparta state). Here's some context to understand what's happening.

Margarita is the largest and most populated of three islands in the Caribbean (approx. 30 min flight from Caracas) forming the state of Nueva Esparta.

Isla Margarita is the premier tourist destination in Venezuela. Economically there are four primary sources of income for people who live here: tourism (service work and some owners of hotels and restaurants), public employment (with variation amongst comparatively well-paid professionals and relatively low-paid/minimum wage public-sector workers), commerce (wealthy importers and clothing and luggage stores) and fishing.

According to folks we've talked to here (mostly from the CNE), the popular classes tend to vote for Chavismo, although in the capital, Asuncion, the opposition wins with popular class vote. In Asuncion, there are many security forces and public school teachers who have recently voted for the opposition. It's worth noting that this suggests that one of the opposition critiques – that public employees don't feel comfortable voting for the opposition – doesn't seem to hold here. The fishermen (apparently it's all male workforce) tend towards Chavismo, as do service workers.

Politically, Nueva Esparta was opposition through 2004, and then Chavista from 2004 through 2012. Right now it's seen as a battleground state where Chavismo and the opposition are running roughly equally in terms of political strength. The two wealthiest municipalities here (Maneiro and Mariño, which is split between wealthy zones and popular sector zones) are controlled by opposition mayors. Two other municipalities, Arismendi (middle class, lower middle class; lots of public employees), Marcano (wealthy importers, commercial zones, store owners, popular classes/fishers who vote Chavistas) also have opposition mayors. But 7 of the 11 municipalities in the state have Chavista mayors; these tend to be popular sectors.

The vote today is likely to be close here according to local observers. And unlike much of Venezuela, polarization seems a bit lower here, in the sense that people seem to get along more or less OK despite political differences.

[Editor's note: An earlier version of this update stated that the opposition won gubernatorial elections in Nueva Esparta state in 2012. In fact, the current governor, Carlos Mata Figueroa, is Chavista.]
UPDATE 8:21 AM (EST): An election monitor reports:
Barlovento, Miranda: voting center at the German Rosario high school in the Acevedo municipality. 8 mesas de votacion with around 4,400 voters. The mesas were all up and running by 6:30am. In a couple of cases, mesa personnel (selected randomly within the community by the CNE) didn't arrive and so they were replaced by pre-selected substitutes.

At 8am: No line in front of the voting center and very short lines for each of the mesas. Everything going smoothly, people coming out of the center surprised by lack of voters.
UPDATE 8:05 AM (EST): One of our election monitors reports that she was was awakened this morning at 5 AM by what she thought was firecrackers, or gunfire. "It turned out to be the cannons calling people to vote."

She writes: "Every speech I've heard in the last week has focused on peace. Venezuela is a peaceful country – at least that is what Maduro is saying."

UPDATE 6:43 AM (EST): The Miami Herald has filed its initial report of the day. It reads, in part: "Although the opposition is believed to have an advantage, it's still unclear how that lead will play out in the final results. Analysts caution that the race consists of 114 separate elections (in individual districts and states) making a final outcome hard to predict. Years of gerrymandering also give the ruling party candidates an advantage."
It is indeed important to note that the election is really the many separate contests, as the Herald states, rather than one national race as with presidential elections. Unfortunately, in the run-up to the election, some commentators and media outlets have described the election in ways that make it appear as more of a single, nationwide contest. As we noted in our new paper, there may end up being a significant disparity between what national opinion polling would suggest and Assembly seats won. It is also important to note that what the Herald describes as "gerrymandering." From our report:
It is important to understand that the difference between the percentage of the vote and the percentage of seats received by a party or coalition is not the result of "gerrymandering" or any other manipulation of districts, as is sometimes suggested in the media. Like the United States and many other countries, Venezuela has a system of representation that gives disproportional representation to states with smaller populations. In the U.S. this is done through allocating two Senators to each state, regardless of population. Thus Wyoming, with a population of 584,000, has the same number of Senators as California, which has more than 39 million people.
UPDATE 6:24 AM (EST): An election monitor reports from Nueva Esparta:
Everything seems to be going smoothly at voting center in Nueva Esparta. There are 5 voting booths (mesas) here and all but 1 had all 5 members: 3 selected by lottery by CNE and 2 witnesses, 1 each for government and opposition. The voting booth members voted first then the public. A regular flow of voters by 6:25 AM. As of 6:35 AM no problems reported.
UPDATE 6:12 AM (EST): Telesur is reporting "Polls opened early Sunday in Venezuela's National Assembly election, with people lining up at polling stations well before the start of voting at 6:00am local time?." The article includes useful summaries of how Venezuela's electoral system works, with an informative video and a step-by-step explanation of the voting process. (One omission from the latter is that a random sample of 54 percent of votes are audited on election night.)
---
On Sunday, December 6, Venezuela will be holding legislative elections and CEPR will be on the ground transmitting live updates throughout the day with the help of election monitors located in different parts of the country.
We will be monitoring every stage of the electoral process: first, the opening of voting centers early in the day; second, the voting process itself – which is scheduled to begin at 6:00 am Venezuela time, and end at 6:00 pm (or until there are no more voters standing in line to vote); third, the Citizens' Audit in which political party representatives and members of the community audit the electronic results of 54 percent of voting machines by comparing them with a tally of paper receipts; and, finally, the announcement of the results by Venezuela's electoral authority – the National Electoral Council (CNE by its Spanish initials).
Venezuelans will be electing national representatives – diputadas and diputados – to fill all 167 seats of the country's unicameral legislature, the National Assembly. Two big party coalitions are facing off: the pro-government Patriotic Pole (Gran Polo Patriótico Simón Bolívar, or GPPSB) versus the opposition Democratic Unity Platform coalition (Mesa de Unidad Democrática, or MUD).
The stakes are potentially high in these elections, as polls have suggested that the governing party – the United Socialist Party of Venezuela (Partido Socialista Unido de Venezuela, or PSUV) – could lose its majority in the Assembly for the first time since 1999. With various polls putting President Nicolás Maduro's favorability ratings in the low 20s, some commentators are predicting that opposition parties have a good chance of achieving a three-fifths or two-thirds supermajority. This would allow a united bloc of opposition parties to exercise special legislative powers such as, in the case of a two-thirds majority, approving constitutional reforms, removing Supreme Court judges or appointing CNE members; and, in the case of three-fifths, removing government ministers from the cabinet.
However, given the nature of legislative elections and the particularities of Venezuela's voting system, it is highly unlikely that the percentage of seats that the opposition will receive in these elections will closely track the levels of support that national polls suggest that they have. As we show in a new report with projections of a range of possible results in these elections, we are likely to see a significant gap between the total votes that go to the opposition on a national level, and the seats that they end up obtaining.
This is in part due to the much-commented fact that more sparsely populated rural areas that have typically been more supportive of the government are disproportionately represented in the legislative voting system. This is not, as some suggest, a result of gerrymandering or some other politically motivated manipulation of the system, but rather because the country's 1999 constitution ensures that, much like in the U.S. Senate, smaller states are disproportionately represented.
Under the country's mixed nominal and proportional voting systems, 113 representatives are nominally elected (voters vote for a name on the ballot) and 51 are elected by list (in which voters vote for a party, or a coalition of parties). Representatives elected by list are elected at the state level (Venezuela has 24 states), whereas those elected by name are elected at the level of each one of the country's 87 electoral circumscriptions. In addition, three indigenous representatives are elected to the National Assembly by voters in three groups of states with high concentrations of indigenous citizens.
Elections are frequent in Venezuela – nearly 20 have been held since 1998 — and electoral experts consider them to be exceedingly transparent and secure thanks to an advanced electronic voting system that is audited at every level by opposition and pro-government party representatives, as well as by independent electoral observers. Jimmy Carter, whose Carter Center has monitored nearly 100 elections worldwide, has referred to the Venezuelan electoral system as "the best in the world."
And yet, over the last few weeks, the U.S. government, the head of the Organization of American States and various politicians (including presidential candidate Hillary Clinton) have strongly questioned the integrity of Venezuela's electoral process, even suggesting that the process may be "rigged." Given that no evidence of possible fraud has emerged in these or prior elections (going back to the mid-90s) CEPR Co-Director Mark Weisbrot has stated, in a recent op-ed, that these foreign actors appear to be "promoting instability and possible violence."
We've already seen a similar international campaign. Following the presidential elections of April 2013, the opposition's presidential candidate, Henrique Capriles, contested the final results, without presenting any evidence of manipulation or fraud. As opposition supporters took to the streets — and, in some instances, perpetrated violent attacks in which government supporters were killed — both the Obama administration and the OAS Secretary General supported Capriles' demand for a recount (a technically impossible demand when dealing with an electronic voting system).
Over the years, CEPR has taken a hard look at various elections in the region and has had live blogs for Venezuela's 2012 and 2013 presidential elections, Honduras' 2013 presidential and legislative elections, and Haiti's 2010 presidential and legislative elections. As we have done with past live blogs, we and other election monitors will describe the electoral process as we see it and will incorporate press reports, statements from state officials, political party spokespeople and foreign actors as they appear. We hope you can tune in starting early Sunday morning!