The Fed rate hike gang got excited yesterday about the release of the June Consumer Price Index data. As the NYT reported, a 0.2 percent June rise in the core CPI took the year over year rate to 2.3 percent. That is slightly above the 2.0 percent target set by the Fed, although the Fed uses the core personal consumption expenditure index, which shows a 1.6 percent advance over the last year.
However even the CPI figure can be a bit deceiving. The shelter component (essentially rent and owners' equivalent rent) accounts for over 40 percent of the core index. This component is the factor responsible for the modest increase in the core CPI in recent months. Excluding the shelter component the core CPI actually fell modestly from 1.6 percent to 1.4 percent over the prior twelve months.
Change in the Core CPI, Excluding Shelter Over Prior Twelve Months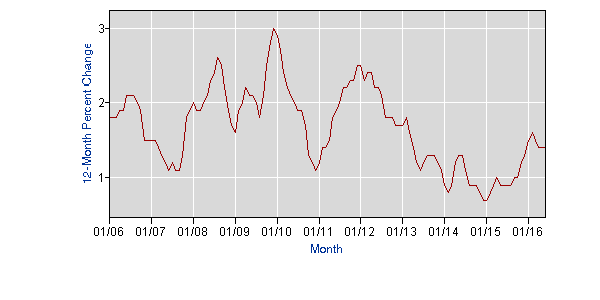 Source: Bureau of Labor Statistics.
It is reasonable to exclude shelter when assessing patterns in inflation since its price follows a qualitatively different dynamic than most goods and services. Rent reflects supply and demand conditions in the housing market. The factor driving rent increases is an inadequate supply of housing.
While higher interest rates will in general be expected to dampen inflation by weakening the labor market and putting downward pressure on wages, this would not be the case with rents. Higher interest rates will slow construction and in this way make the shortage of housing worse. For this reason inflation caused by rising house costs would not be a good rationale for raising interest rates.
The piece also touted the Federal Reserve Board's report of a 0.4 percent increase in manufacturing output for June. It is worth noting that this follows a reported decline of 0.3 percent in May. The Fed's manufacturing index is still 0.2 percent below its February level so it is hard to make a case for robust growth in this sector.