Expertise: Private equity, workforce, employment, labor, women workers, work-life balance, workplace practices, labor-management cooperation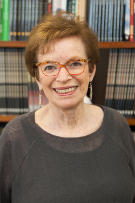 Eileen Appelbaum is Co-Director of the Center for Economic and Policy Research, Washington, DC, Fellow at Rutgers University Center for Women and Work, and Visiting Professor at the University of Leicester, UK. Prior to joining CEPR, she held positions as Distinguished Professor and Director of the Center for Women and Work at Rutgers University and as Professor of Economics at Temple University. She holds a PhD in economics from the University of Pennsylvania.
Dr. Appelbaum's research focuses on organizational restructuring and outcomes for firms and workers; private equity and financialization; and work-family policies. Private Equity at Work: When Wall Street Manages Main Street, coauthored with Rosemary Batt, was selected by the Academy of Management as one of the four best books of 2014 and 2015, and was a finalist for the 2016 George R. Terry award. Unfinished Business, Paid Family Leave in California and the Future of U.S. Work-Family Policy, coauthored with Ruth Milkman, examines the effects of paid family leave in California on employers and employees. It has been widely cited in discussions of national paid family and medical leave policy. Her current research examines the implications of consolidation of hospitals and decentralization of health services to outpatient care centers for the jobs of non-professional employees in these two segments of the healthcare industry.
Several of Dr. Appelbaum's earlier books – The New American Workplace: Transforming Work Systems in the US with Rosemary Batt, Low Wage America: How Employers Are Reshaping Opportunity in the Workplace with Annette Bernhardt and Richard Murnane, and Manufacturing Advantage: Why Higher Performance Work Systems Pay Off with Peter Berg, Thomas Bailey and Arne Kalleberg – were selected by Princeton University for its distinguished list of Noteworthy Books in Industrial Relations and Labor Economics.
She has published numerous articles in peer-reviewed journals, including "Domestic Outsourcing, Rent Seeking, and Increasing Inequality," RRPE, 2017: 1-16 and "Implications of Financial Capitalism for Employment Relations Research: Evidence from Breach of Trust and Implicit Contracts in Private Equity Buyouts," British Journal of Industrial Relations 51(3): 498–518, 2013.
Selected Works
Email: This email address is being protected from spambots. You need JavaScript enabled to view it.

Tel. 202-293-5380 x116