Expertise: Private equity, workforce, employment, labor, women workers, work-life balance, workplace practices, labor-management cooperation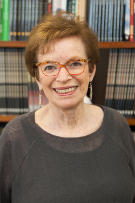 Eileen Appelbaum is a Co-Director at the Center for Economic and Policy Research and Visiting Professor in the Department of Management at the University of Leicester, UK. She has 20 years of experience carrying out empirical research on the effects of public policies and company practices on outcomes for companies and workers. She studies work processes and work-life practices of organizations and their implications for organizational effectiveness and for the quality of jobs. Recent publications examine employers' experiences with paid family leave in California and with paid sick days in Connecticut. Her book, Unfinished Business, Paid Family Leave in California and the Future of U.S. Work-Family Policy, coauthored with Ruth Milkman, was published in November 2013. A new report with Ruth Milkman, "Good for Business: Connecticut's Paid Sick Leave Law," appeared in March 2014. Her current research examines the effects of private equity ownership and governance on companies and workers and her latest book, Private Equity at Work: When Wall Street Manages Main Street, coauthored with Rosemary Batt, was published in March 2014.
Dr. Appelbaum has published widely on workforce, employment, productivity and labor market issues and on the labor market experiences of women. Her research has examined low-wage work in the US and Europe; work processes and quality of care in child care, elder care and health are; and policies and practices that facilitate the work and family lives of workers. Her books include the co-edited volume, Low Wage America: How Employers Are Reshaping Opportunity in the Workplace (2003) and the coauthored books, Manufacturing Advantage: Why Higher Performance Work Systems Pay Off (2000) and The New American Workplace: Transforming Work Systems in the US (1994), all three of which were selected by Princeton University as Noteworthy Books in Industrial Relations and Labor Economics. She has published widely in books and journals on wage and employment trends in industrialized countries and on the workplace and work-life practices of firms, including in Industrial Relations, Industrial and Labor Relations Review, British Journal of Industrial Relations, and International Labour Review. Dr. Appelbaum's recently published papers include "Low-Wage Work in High Income Countries," "Organizations and the Intersection of Work and Family: A Comparative Perspective," "Contesting Time: International Comparisons of Employee Control over Working Time," and "Balancing Work and Family: The Role of High Commitment Workplaces and Industrial Relations."

Previously, Dr. Appelbaum was Distinguished Professor and Director of the Center for Women and Work at Rutgers University. She held a concurrent position as Professor in the People, Management and Organisations Department of the University of Manchester Business School (MBS), UK. Prior to that she was Research Director at the Economic Policy Institute in Washington, DC, and earlier was a tenured Professor of Economics at Temple University. She has been a Guest Researcher at the University of Auckland in New Zealand, at the University of South Australia, and at the Wissenschaftszentrum Berlin (WZB) in Germany, and she is a Fellow at the IAB (Institute for research on work and occupations) in Nuremberg. She served as President of LERA (the Labor and Employment Research Association) in 2010, having previously served on the organization's Executive Board and on its Editorial Committee. She has served on the Beirat (Advisory Council) of the WZB, on the National Academy of Sciences' Commission on the IT Workforce, and on New Jersey's Corporate Business Tax Reform Study Commission. She is currently on the Executive Board of the Industry Studies Association and is an editorial board member of the ILRReview as well as the Human Resource Management Journal and International Labour Journal and serves on the international advisory board of the British Journal of Industrial Relations. She received her PhD in economics from the University of Pennsylvania.
Selected Works
Email: This email address is being protected from spambots. You need JavaScript enabled to view it.

Tel. 202-293-5380 x116