President Trump has made a point of very publicly donating his $400,000 annual salary as president to various civic minded efforts. He recently announced the donation of $100,000 to a camp run by the Department of Education to encourage women to enter science, technology, education, and math. He donated his first quarter's pay of $100,000 the National Park Service to help pay for the cost of the restoration of the Civil War battlefield at Antietam.
While these contributions will likely support socially useful activities, people should not be misled into thinking the national budget has benefited by having a billionaire business person in the White House. According to the New York Times, Congress had to appropriate an additional $120 million to cover the additional security costs required by Trump as a result of the unusual security demands that he and his family have placed on the Secret Service and government agencies.
To be clear, these are not the normal costs of protecting the president. This $120 million is additional spending that was needed as a result of factors unique to Trump. This includes the Secret Service protection for his adult children (adult children of prior presidents have not been protected), his decision to have his wife and one of his sons stay in New York for the first six months of his presidency, and his habit of visiting Trump properties rather than vacationing at Camp David, like prior presidents. Camp David is already well-secured, and therefore does not require much additional spending when the president visits. This is not the case with Mar-a-Lago and various other Trump properties.
The chart below gives the relative costs of the additional security spending required by the Trump family and the value of his donated salary, net of taxes. (It assumes that he would pay 40 percent of his $400,000 annual salary in taxes.)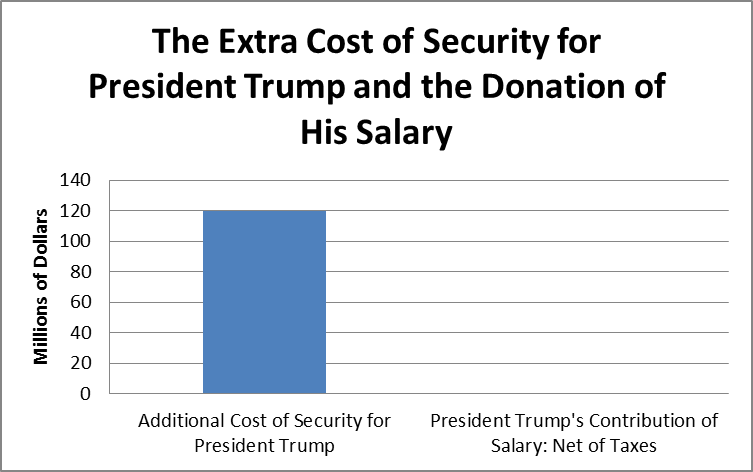 Source: New York Times and CNN.
As can be seen, the additional cost of security for President Trump and his family is more than 400 times the net value of the contribution of his presidential paycheck. The public would be considerably better off with a president who pocketed his paycheck and made less extravagant security demands on the Secret Service and other governmental agencies.