In a stunningly one-sided article two days before the Venezuelan election, the New York Times creates a frightening picture of a deteriorating society in which citizens are afraid to vote against the incumbent president, Hugo Chavez:
"I'm not going to take the risk," said Fabiana Osteicoechea, 22, a law student in Caracas who said she would vote for Mr. Chávez even though she is an enthusiastic supporter of Mr. Capriles. She said she was certain that Mr. Chávez would win and was afraid that the government career she hopes to have as a prosecutor could be blocked before it begins if she votes the wrong way.
"After the election, he's going to have more power than now, lots more, and I think he will have a way of knowing who voted for whom," she said. "I want to get a job with the government so, obviously, I have to vote for Chávez."
OK, so she is giving the NYT her name but afraid to vote in an election that international observers believe to be conducted by a secret ballot.  Strange.  This might have made an inquisitive reporter do a google search on her name.
He would have found this among dozens of opposition tweets: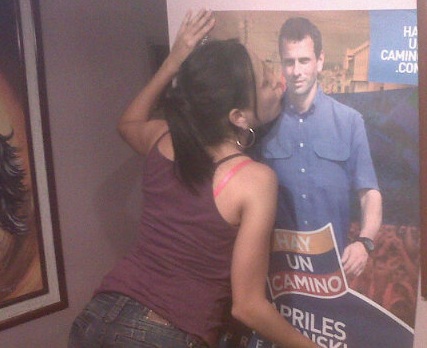 Venezuela hay un camino … 07-Oct hagamos de este dia un dia historico yfrog.com/obo6sxqj

— Fabiana Osteicoechea (@Fabiana_OST) August 25, 2012
So, she tweets constantly against the government but is afraid to vote against it in an election process that Jimmy Carter said, a few weeks ago, was the best in the world.
The rest of the article is about as believable as this witness.  For those who don't follow the NYT coverage of Venezuela, for years it has not been very distinguishable from that of Fox News.  Or the Washington Post.  Hence the consensus of all Very Serious People on Venezuela that it is a scary, authoritarian place to live.
The article also pretends that Chávez has an advantage in the media; however the government has only a small portion of the media, with most remaining pro-opposition.
UPDATE (5:00pm): The Carter Center has told the media that fears of electoral fraud in Venezuela are unfounded.