2023 marks the 60th anniversary of  Dr. King's "I Have a Dream" speech. It's time to remember that the dream also included a large-scale federal program to train and place all unemployed workers.
Everyone who wants to work should be able to find a job, but this is not the case today. Although the official statistics indicate that we are in a period of historically low unemployment, there are still millions of people who are willing to work but are not able to find a job. Recent data from the Bureau of Labor Statistics suggests that there are about 15 million people who are unable to find work.[i] This joblessness is not uniformly distributed across the country but concentrated in the most disadvantaged communities. A targeted federal program for subsidized employment could create jobs and economic growth in these communities that have been left behind.
With subsidized employment, the government covers some or all the wages of new hires. Scholars find that this is one of the most effective policies for putting people back to work.[ii] Increasing the employment rate of the most disadvantaged workers has been shown not only to benefit the workers and their families but also to have broad community-wide benefits.[iii] We are a stronger nation when more people are working.
In every state in the nation, there are communities that have been left behind. For example, in West Virginia and Kentucky, many people—including many low-income White people–are unable to find employment. In New Mexico and Arizona, many Latino people suffer from joblessness. In Mississippi and Louisiana, many Black people are impoverished because of a lack of work. In Indiana and Michigan, many Asian Americans are without work. In South Dakota and Alaska, many Native Americans want to work but are unable to find employment. In this period of historically low unemployment, there are communities, from urban areas to rural counties, that have been left behind to suffer with high rates of joblessness.
We the undersigned are inspired by Rev. Martin Luther King Jr. to call on our elected officials to create a subsidized employment program targeted to the communities that face high rates of joblessness even during periods of low unemployment. In 2023, 60 years after King's famous "I have a dream" speech, it is important to remember that King gave that speech at the 1963 March on Washington for Jobs and Freedom. One of the demands of that march was for "[a] massive federal program to train and place all unemployed workers — Negro and white — on meaningful and dignified jobs at decent wages." King died working to achieve this goal. As the historian Michael K. Honey states, in the last year of King's life:
He sought an Economic Bill of Rights for Native Americans, Mexican Americans, Puerto Ricans, and poorer whites, as well as for blacks. He sought to create a nonviolent army of poor people in jobless inner cities and barrios and in reservation and rural areas. He challenged the country to create an economy of full employment.[iv]
As King did, we the undersigned challenge our elected officials to create an economy of full employment for all regardless of race, gender or region. We call for a federal program for subsidized employment targeted to the communities that face persistently high rates of joblessness.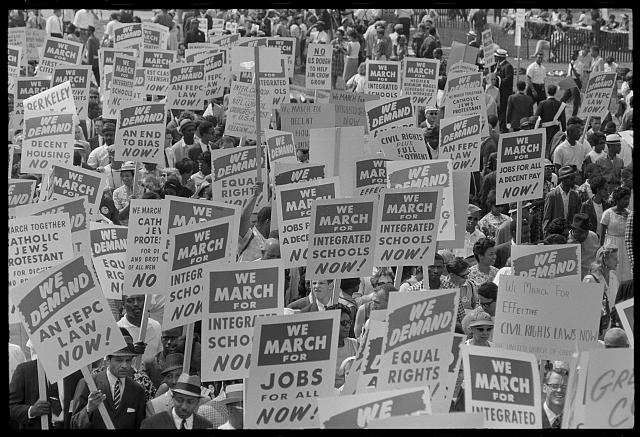 Organizational Endorsements
Center for Economic and Policy Research
Center for Law and Social Policy
Community Change Action
DC Fiscal Policy Institute
Demos
Economic Opportunity Institute 
Economic Policy Institute
Georgetown Center on Poverty and Inequality
Heartland Alliance
Jobs with Justice
Joint Center for Political and Economic Studies
Labor and Working-Class History Association
Michigan League for Public Policy
National Black Worker Center
National Jobs for All Network
Ohio River Valley Institute
Progressive Global Commons
Prosperity Now
CA Black Women's Collective Empowerment Institute
National Youth Employment Coalition
The Forum for Youth Investment
Bread for the World
National Alliance to End Homelessness
National Association of County Human Services Administrators
County Welfare Directors Association of California
Individual Endorsements
Merius Atangcho
Alan Barber, Congressional Progressive Caucus Center
Alexandra Bradbury, Labor Notes
Allicia Brolsma, Student
Erika Brown, Broke-ish podcast
Geronimo Collins, Self-Employed
James Crawford
Brendan Deery, Student
Frank DiCristofano, Retired
Kevin Gallagher, Unemployed
Shawn Lewis, Unemployed
Bob Lucore, Self-Employed
Bob Martin, Retired
C.A. Matthews, The Revolution Continues
Robyn Muncy, University of Maryland, College Park
Meredith Muncy
Dedrick Asante-Muhammad, National Community Reinvestment Coalition
Jay Schaffner, Portside
Patricia Simpson,  Emerita Professor, Loyola University Chicago
Dan Souder
Tess Speranza
Naomi R. Williams, Rutgers University SMLR
Melissa Young, Self-Employed
Aramis Alaude
Adele Gladstone, League of Women Voters
Dr. Colette Harris Mathews, Self-Employed
Debra Hunter, Information Design Consultants Inc.
Stefano Monti, Boston University School of Medicine
Katie Skean, Student
James Smart
Wayne Smith, Self-Employed
Martin Vandepas, Slow and Steady Farm
Maddie Ward, Self-Employed
Chris Becker, Groundwork Collaborative
Destinee Anderson, Center for Economic and Policy Research intern
Claire Goldberg, DC Fiscal Policy Institute
Gerry Toner, Self Employed
Shagufta Hakeem
Adam Krupa, Constellis
Mike Rissler, Self-Employed
---
[i]The U.S. Bureau of Labor Statistics "The Employment Situation—November 2022" had over 6 million people who were unemployed, 5.2 million people who wanted to work but were not technically in the labor force, and 3.7 million people who wanted full-time work but could only find part-time work. https://www.bls.gov/news.release/pdf/empsit.pdf.
[ii] Levy Yeyati, Eduardo, Martin Montane, and Luca Sartorio. 2019. "What Works for Active Labor Policies?" CID Working Paper Series 2019.358. Harvard University, Cambridge, MA, July. https://nrs.harvard.edu/URN-3:HUL.INSTREPOS:37366396.
[iii] See "Research Evidence for Subsidized Employment," in Warland, C., & Young, M., (2019, November). Jobs for ALL: Recommendations for Ensuring Equitable Access & Outcomes for Subsidized Employment and Jobs Guarantee Proposals. Heartland Alliance. https://nationalinitiatives.issuelab.org/resource/jobs-for-all-recommendations-for-ensuring-equitable-access-outcomes-for-subsidized-employment-and-jobs-guarantee-proposals.html.
[iv] Honey, Michael K. "Introduction" in "All Labor Has Dignity," ed. Michael K. Honey (Boston: Beacon Press, 2011), p. xiii.