Last week, the International Organization for Migration (IOM) announced a drop in Haiti's internally displaced persons (IDP) population to below 400,000. AP reports:
The reduction in the camp population is attributed to a combination of forced removals, rental subsidies and voluntary departures, but it is not clear where the bulk of the people have gone or if their living arrangements are better than the camp conditions.
While previous reports of IDP population decreases were held up uncritically as signs of progress, this time IOM spokesperson Leonard Doyle provided a more nuanced response. While the government-backed relocation efforts have only reached a small portion of the IDP population, Doyle notes that "As for the rest we don't know [where they ended up]," adding, "[a] lot of these people we know have pitched tents on the side of the mountains." Indeed, a simple look at the available numbers suggests that many of those that have left the IDP camps monitored by the IOM have not found adequate shelter.
The IOM touts a 75 percent reduction in the camp population since July 2010, amounting to a decrease of over 1.1 million people. Yet as of April 2012, only 12,000 rental subsidies were given out, 13,000 houses were repaired and just fewer than 5,000 new homes were constructed. In total, these three solutions account for only about 12 percent of the reduction in IDP population. Additionally, about 108,000 transitional shelters have been built, which would account for an additional 42 percent. However this likely overstates the effects of the transitional shelter, as it is estimated that only about 40 percent of transitional shelters actually went to IDPs.
Figure I compares the number of households exiting the camps with the number of new housing solutions completed. As can be seen, the majority of the IDP population decrease occurred when shelter implementation was far too low to absorb all the people exiting the camps. This backs up previous studies which have shown that forced evictions and declining services were the primary drivers of the reduction in IDP population.
Figure I.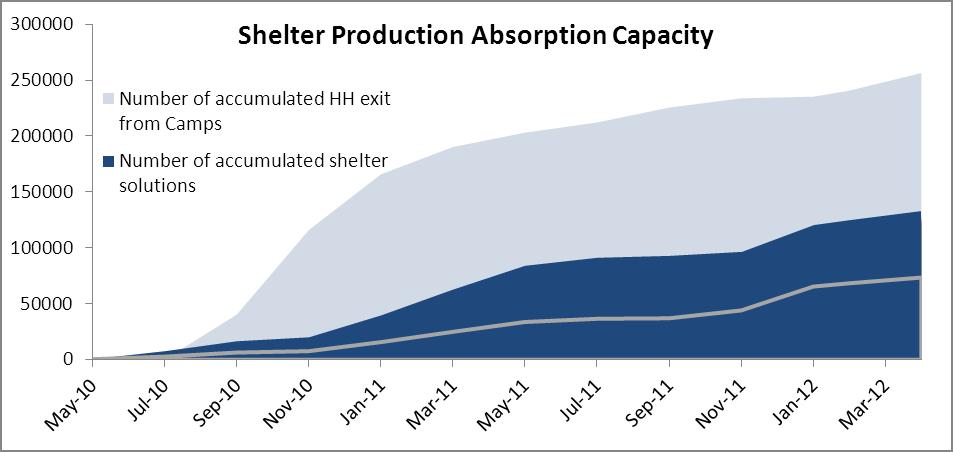 Graph: CEPR, Author's Calculation Source: E-Shelter and CCCM Cluster
It is important to note that Figure I likely overstates the absorption capacity of the new shelter solutions because it includes transitional shelters, which as mentioned earlier went to IDP households only about 40 percent of the time.  The gray line represents the accumulated shelter solutions using the estimate of 40 percent of transitional shelters actually going to IDPs.
It is clear that about 50 percent, and perhaps significantly more of the reduction in IDP population, was due to other factors (forced evictions, poor services, voluntary departure, etc.) and didn't result from the provision of new shelter or rental subsidies. Also noteworthy is that in recent months, the rate of decline in the camp population is more closely alligned with the increase in the provision of rental subsidies, house repairs and new house construction. The durability of these solutions is still questionable however. Many have complained that rental subsidies don't offer adequate funds to secure safe housing as families move back into damaged buildings. It also only provides rent for a short time, after which the family may be back out on the street, this time as an uncounted IDP like so many others.
At the same time, the threat of forced evictions remains constant. As Kevin Edmonds of NACLA points out, a recent Amnesty International report warned, "increasingly, displaced Haitians have reported tactics being used to coerce them into leaving the camps they have inhabited since the 2010 earthquake, including cash bribes and threats by plain-clothed security forces or armed groups." Recently, Haitian grassroots groups have been advocating for a more comprehensive housing plan from the Government of Haiti and have taken to the streets to protest the continued forced evictions. This week, parallel to the efforts of local Haitian groups, international civil society and human rights organizations are calling on the government of Haiti:
to immediately halt all forced evictions and ensure that camps for internally displaced people, on private or public land, are not destroyed or closed until public or affordable housing is available.

Haitians have spent over two years in horrific conditions and are asking for homes. We urge you to designate land for housing, make construction materials available and affordable, create one centralized government housing institution to coordinate and implement a social housing plan, and allocate the funds necessary to realize this plan.

We stand with those who are bouke viv anba tant—tired of living in camps – and we will stand with them until they have homes.
Despite the clear downsides of what IDP rights advocate Mark Snyder has called the "race to zero", which prioritizes clearing camps over creating durable housing solutions, it seems the policy is set to continue. As IOM Director General William Lacy Swing stated last week after visiting Haiti, "we need to get across the finish line by closing as many camps as possible." But unless adequate alternatives exist, the "race to zero" runs the risk of displacing already vulnerable families for a second time.