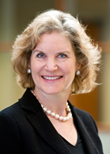 Directorships: 3
Total director compensation, 2009–2014: $4,046,354
Average annual director compensation: $784,203
Average compensation per full year of service as director: $252,897

Susan C. Schwab spent the better part of thirty years working in foreign policy and trade. Her most prominent position in this field was as United States Trade Representative (USTR), a job she held between 2006 and 2009 at the tail end of the Bush administration. During her time as USTR she brokered dozens of Fair Trade Agreements and launched the Trans Pacific Partnership talks.
After her years in the public sector, Ambassador (AMB) Schwab transitioned to the private sector, putting her experience in global trade negations to work on the boards of three companies. AMB Schwab joined the Caterpillar board of directors in 2009, and the Boeing and FedEx boards in 2010.
Between 2009 and 2014, as reported in SEC proxy statements, AMB Schwab made a total of $4,046,354, more than 96 percent of all directors, averaging $784,203 in compensation per year. During this same period CEO pay at all three companies increased by an average of $8,078,725, with Caterpillar and FedEx both showing increases in CEO pay of over 90 percent. The CEO of Boeing saw an increase in pay of 46 percent, but was also the highest paid CEO of the three companies with an average executive compensation of $24,461,591.
Between 2009 and 2014, the stock price of all three companies was roughly in line with market averages. Boeing's stock prices rose by 131 percent, Caterpillar's by 95 percent, and FedEx by 108 percent. For comparison, during this same period the S&P 500 grew by 121 percent. There are, however, rough waters ahead for at least one of the companies AMB Schwab is a board member for. Caterpillar announced recently that it would be cutting upwards of 10,000 jobs due market saturation and global economic uncertainty.