More than four-and-a-half years after the devastating earthquake in Haiti, the U.S. Congress passed legislation on Friday demanding greater accountability and transparency in U.S. relief and reconstruction efforts. "[W]e need to provide more accountability of our efforts to rebuild Haiti as we work to produce sustainable local capacity and strengthen democratic institutions," said Rep. Barbara Lee (D-CA), in a press release praising the bill's passage.
In April 2013, CEPR published "Breaking Open the Black Box: Increasing Aid Transparency and Accountability in Haiti." The report concluded that "the lack of real transparency around U.S. assistance to Haiti makes it much more difficult to identify problems and take corrective measures." Among the recommendations made in the report, many have been included in the recent legislation, such as: reporting sub-award contract data, prioritizing local procurement and the involvement of local civil society, releasing data at the project level and including benchmarks and goals, and increasing the amount of information published in Haitian Creole.
The Assessing Progress in Haiti Act, as the bill is known, will require the Secretary of State to submit to Congress a report every 6 months detailing the U.S. government strategy in Haiti, including program goals and outcomes. Crucially, the bill also requires reporting on "amounts committed, obligated, and expended on programs and activities to implement the Strategy, by sector and by implementing partner at the prime and subprime levels," making it far easier to track where the money goes and who is the ultimate recipient.
It has been U.S. policy to increase local procurement worldwide as part of an ambitious reform program called USAID Forward. However, the new bill will ensure that the U.S. carries this out in its Haiti policy, something that has taken on extra importance as recent data released by USAID shows the level of local procurement actually decreased in 2013 from 2012.
Local procurement data recently posted (XLS) on the USAID Forward website reveals that just over $4 million, or 2 percent of all USAID spending went to local companies or organizations in Haiti. This is down from $11.3 million (5.4 percent) in 2012. Overall expenditures for Haiti decreased from $209.5 to $198 million, according to the database. Worldwide, the level of local procurement actually increased, from 14.3 to 17.9 percent, showing just how far behind U.S. policy in Haiti is.
The aid accountability bill states that "it is the policy of the United States" to prioritize "the local procurement of goods and services in Haiti," and repeatedly calls on the U.S. government to outline a strategy that "builds the long term capacity of the Government of Haiti and civil society in Haiti." While these are core principles that leading donors worldwide have agreed to adopt in line with evolving aid accountability awareness, the U.S. has been slow to implement these changes, especially in Haiti.
Commenting on the bill's passage, CEPR Co-Director Mark Weisbrot stated, "it is a step in the right direction if U.S. taxpayer dollars are to be used in a way that will benefit the people of Haiti instead of merely lining contractors' pockets." He added that, "66.2 percent of USAID contracts has gone to Beltway-based firms, while just 1.5 percent has gone to Haitian companies…There is something terribly wrong with this picture."
What the Data Shows
The data released by USAID, showing the levels of local procurement, while a step in the right direction, falls far short of what is being required in the Haiti aid bill, and has severe limitations. Unlike in the USASpending.gov database, which reports all contracts and grants awarded by USAID, the Forward Database contains no identifying contract numbers, meaning reconciling the two databases is virtually impossible. Further, the USAID Forward database doesn't specify whether the expenditures are via prime awards or sub-awards, an important distinction. Finally, the information is provided only well after the fact, while the USASpending.gov data is updated regularly. For these reasons, to present a more complete picture of USAID procurement in Haiti, an analysis of the USASpending.gov database is required.
As of July 14, 2014 USAID has awarded $1.38 billion for Haiti-related work according to the USASpending.gov database, including both contracts and grants. As can be seen in Figure 1, overall, just 0.9 percent has gone directly to Haiti organizations, while 56.6 percent has gone to firms located inside the Beltway (Washington D.C., Virginia and Maryland).
Figure 1. Percent of USAID Funds Awarded, by Location of Recipient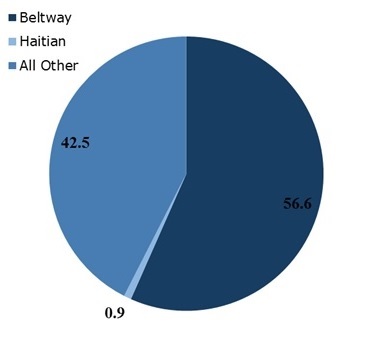 There is some evidence to show that local procurement has been increasing in 2014. Though the USASpending.gov data confirms the drastic decrease in local procurement in 2013, thus far in 2014 just over 2 percent has gone to local companies, as can be seen in Figure 2.
Figure 2. Percent of USAID Awards Given to Haitian Companies, Annual

In response to inquiries from CEPR, the USAID Haiti Task Team responded that, "the amount of new obligations directly to local organizations will vary from year to year and do not necessarily reflect the level of USAID involvement in building local capacity," adding that, "any attempt to split up our funding into discrete shorter time periods such as fiscal years is bound to encounter fluctuations."
In 2014 and beyond, "USAID/Haiti anticipates higher percentages," of local procurement. To help move in this direction, USAID issued an Annual Program Statement (APS) in March 2014 that programs $5.5 million "to provide direct funding to local Haitian organizations," in a number of sectors. Further, and in line both with USAID Forward and the recently-passed legislation, USAID "is currently identifying opportunities" for Haitian organizations to provide development capacity building to civil society groups and local companies in order "to expand the number of Haitian organizations able to receive direct funding from USAID or other donors," according to the Haiti Task Team.
Still, a deeper look at who the recipients are shows a more limited reach of USAID's local procurement. Since the earthquake in January 2010, of the $1.38 billion awarded by USAID, just $12.36 million has gone to Haitian organizations. And of that, 57 percent went to just one company, Cemex Haiti, which is a subsidiary of a Mexican company that is one of the largest cement manufacturers in the world. A further 8.6 percent went to the local branch of Transparency International. Though both organizations physically operate in Haiti and employ Haitians, it highlights the advantage for local firms of having international connections, without which they are often left behind.
While more funds certainly go to Haitian companies through subcontracts, there is little available information available on this. Despite previous legislation requiring the reporting of subcontracts to the USASpending.gov database, in practice very little is ever reported. Only $44.1 million is reported in subawards for work in Haiti, of which 20 percent went to Haitian companies, as can be seen in Table 1. Even at this level, over 44 percent of the funds went to companies inside the Beltway. The newly-passed legislation, in requiring the reporting of data at both the prime and sub levels, will allow for a much more thorough analysis of USAID spending in the future.
Table 1. Subaward Obligations, by Location of Recipient

The U.S. Congress has sent a clear message to the State Department and administration that the U.S.'s Haiti policy has not lived up to its pledge and that is has fallen short in key areas of transparency and accountability. The next step will be holding those actors accountable with this new piece of legislation.