Yesterday, on Workers Memorial Day, President Trump issued an executive order that requires beef, pork, and poultry producers to continue operating. The executive order also directs the Secretary of Agriculture to issue any additional orders and regulations necessary to keep producers operating. On the same day, the United Food and Commercial Workers reported that there had been at least 20 worker deaths in meatpacking and food processing due to the virus. UFCW also reported that at least 6,500 meatpacking and food processing workers have been directly impacted by the virus — meaning they tested positive for COVID-19 or are awaiting test results, missed work due to self-quarantine, have been hospitalized, and/or are symptomatic — and 22 meatpacking plants have been closed at some point due to the virus so far. 
The executive order impacts 194,000 frontline meatpacking workers in the Animal Slaughtering and Processing Industry (see Methodology section below for the three occupations classified as frontline meatpacking occupations). This industry also employs an additional 280,000 workers, most of whom are also directly affected by the order. As this brief shows, frontline meatpacking workers are a diverse group in which people of color and immigrants are overrepresented compared to the US workforce overall. They do dangerous work, even in the best of times, and are poorly compensated for it. The federal government needs to change course and act immediately to provide better protections for these and other essential workers. This includes making many of the optional recommendations issued by the CDC in April mandatory and enforceable, to ensure the safety of both workers and their surrounding communities.
A Basic Demographic Profile of Meatpacking Workers
People of color, immigrants, and people in relatively low-income families are disproportionately employed in meatpacking plants. Almost one-half (44.4 percent) of meatpacking workers are Hispanic, and one-quarter (25.2 percent) are Black. 
Across all the occupations of people working in the Animal Slaughtering and Processing Industry, more than half of all workers are people of color (34.9 percent are Hispanic, and 22.5 percent are Black). In some occupations within the industry, more than two-thirds of workers are people of color, including: Hand Packers and Packagers (75.3 percent); Laborers and Freight, Stock, and Material Movers, Hand (68.6 percent); and Industrial Truck and Tractor Operators (67.3 percent).
Immigrants are particularly overrepresented in frontline meatpacking occupations. About 17 percent of workers in the US workforce today are immigrants. But more than one-half (51.5 percent) of frontline meatpacking workers are immigrants. About one-quarter (25.1 percent) of these workers live in households in which all of the members (age 14 or older) have limited proficiency in English, over six times the rate for US workers overall. Other occupations within the Animal Slaughtering and Processing Industry also have a high share of immigrants: Hand Packers and Packagers (52.9 percent); Industrial Truck and Tractor Operators (38.8 percent); and Laborers and Freight, Stock, and Material Movers, Hand (38.2 percent).
Nearly half of frontline meatpacking workers (45.1 percent) live in low-income families (below 200 percent of the federal poverty line, or less than $52,400 for a family of four in 2020) and about one-in-eight (12.4 percent) have income below the poverty line. This compares to 20.6 percent of all workers from low-income families and 6.7 percent of all workers with income below the poverty level. Meatpacking workers also disproportionately lack health insurance (15.5 percent), have one or more children to care for (44.3 percent), and are less educated (2.5 percent have a college degree or more).
Characteristics of Frontline Meatpacking Workers
 
 
Animal Slaughtering and Processing Industry
 
All Workers
All Workers
Frontline Meatpacking Workers
All Workers (16+)
152,600,169
473,467
193,996
 
(%)
(%)
(%)
Female
47.4
36.2
42.0
Full/Part-time
 
 
 
Full-time
78.6
94.8
94.0
Part-time
21.4
5.2
6.0
Race/Ethnicity
 
 
 
White
63.5
34.5
19.1
Black
11.9
22.5
25.2
Hispanic
16.8
34.9
44.4
AAPI
6.6
7.0
10.0
Other
1.2
1.1
1.2
Foreign Born
17.1
37.5
51.5
Limited English Speaking Household
4.0
16.8
25.1
Education Level
 
 
 
LTHS
9.3
32.6
44.1
HS
24.5
38.3
38.0
Some college
32.0
20.6
15.4
College
21.6
6.7
2.0
Advanced
12.6
1.8
0.5
Child in home
35.8
41.6
44.3
Compensation and Benefits
 
 
 
Below poverty line
6.7
8.8
12.4
<200% poverty line
20.6
34.9
45.1
No health insurance
11.0
11.8
15.5
Top 10 States, Frontline Meatpacking Workers
 
 
 
Texas
8.5
7.7
8.3
Georgia
3.1
6.9
7.5
Arkansas
0.9
7.8
7.5
North Carolina
3.1
6.7
7.0
Iowa
1.1
6.1
6.7
Nebraska
0.7
4.7
6.1
California
12.0
4.3
4.1
Missouri
1.9
3.5
3.9
Illinois
4.1
3.9
3.7
Alabama
1.4
3.7
3.4
Source and Notes: CEPR's Analysis of American Community Survey, 2014-2018 5-Year Estimates.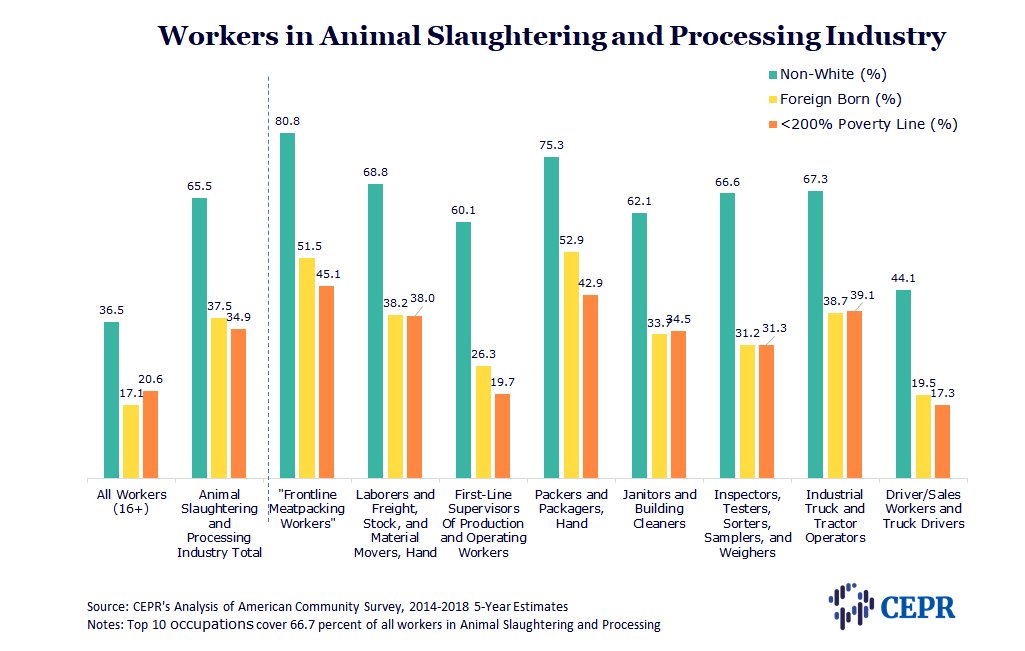 The Federal Government Needs to Do More to Protect Meatpacking Workers 
Meatpacking workers exemplify today's diverse, multicultural working class. Even before the pandemic, they did hazardous work on a daily basis with injury and illness rates about two times higher than workers on average. Instead of increasing protections for these workers during the pandemic, the current administration has increased the risks they face. In addition to yesterday's executive order, the United States Department of Agriculture (USDA) has waived federal regulations on maximum line speed in at least 15 poultry plants this month. As documented in recent reporting by USA Today and the Midwest Center on Investigative Reporting, USDA granted more "waivers in one week in April than in any previous month over the past eight years …." 
The federal government needs to change course and act immediately to provide better protections for these and other essential workers. For meatpacking workers, these protections must include:
guaranteed, free testing on a priority basis;
suspending all USDA waivers that allow plants to operate at faster speeds than allowed by federal regulations;
ensuring that processing plants enforce physical distancing between workers, even if it means slowing the speed of production;
ensuring that all meatpacking workers have necessary personal protective equipment;
workers who have or may have COVID-19 stay home;
ensuring that all workers who need to stay home due to COVID-19 receive sick pay; and
ensuring that meatpacking workers have a voice in their workplaces, including, as recommended in a recent report by Sharon Block and other labor law experts, a "meaningful role in designing and implementing the safety and health protocols that govern their lives on the job." 
Methodology
This profile of meatpacking workers uses the most recent five-year estimates of data from the American Community Survey (2014–2018) Public Use Microdata Sample. The demographics of meatpacking workers are unlikely to have changed in any substantial way over the last two years, and using five-year estimates of ACS data helps ensure that sample sizes are sufficient to produce reasonably precise estimates by industry and occupation.
Frontline Meatpacking Workers: "Frontline meatpacking workers" are defined as people working in the "Animal Slaughtering and Processing Industry" in one of these three occupations (as classified using the Census Bureau's Standard Occupational Classification system):
Butchers and Other Meat, Poultry, and Fish Processing Workers (51-3020)
Packaging and Filling Machine Operators and Tenders (51-9111)
Food Processing Workers, All other (51-3099)
Workers in these three occupations make up more than 40 percent of all workers in the Animal Slaughtering and Processing industry. 
Immigrants: Immigrants are defined as foreign-born persons and include naturalized citizens.
Limited English Proficiency: A household has limited proficiency in English if none of the members (age 14 or older) have "good" or "very good" proficiency in English. 
Poverty: Poverty is defined using the very dated official poverty definition, and does not take account of taxes, work expenses (like child care and commuting costs), various near-cash benefits, and changes in typical living standards (beyond inflation) since the 1960s.